"Hope is a good thing, maybe the best of things, and no good thing ever dies." – Andy Dufresne, The Shawshank Redemption (1994)
In just two weeks, the fan bases of most NBA franchises will have new hope. Hope that their fortunes have changed. Hope that they'll become or remain relevant. Hope that the kid they just drafted will become someone they can follow.
The 2016 NBA draft is nearly upon us. There are still many workouts and interviews to be held, but the order near the top of the draft is becoming clearer each week.
So which player or players will bring hope to your franchise? Downtown's second NBA mock draft for 2016 has some answers for you.
Pick 1 – Philadelphia 76ers (Needs: PG, SG, SF, talent)
Selection: Ben Simmons, SF/PF, LSU (Rank in previous mock draft: 1)
It's becoming clear the Sixers covet Ben Simmons. They rank him atop their draft board ahead of Brandon Ingram, and with a source close to Simmons stating he "has no issue with playing for the Sixers," it'd be a shock from here if the Colangelos changed their minds. If you believe that they're considering Jamal Murray, then you're as foolish as Cersei Lannister thinking she still had power before a dose of reality from Grandma Tyrell. What you can believe is that the connection with Brett Brown is real and an added bonus both for the Sixers and for Simmons (and maybe a long-shot bonus for the Boomers in Rio). And while he may prefer to wear purple and gold after his year in Baton Rouge, hearing his name called after the words "With the first pick in the 2016 NBA draft, the Philadelphia 76ers select…" will be sure to appease him.
Pick 2 – Los Angeles Lakers (Needs: SF, C)
Selection: Brandon Ingram, SF, Duke (Previous: 2)
Despite the Lakers bringing in Henry Ellenson for a workout, it's Ingram or Simmons all the way for Mitch Kupchak and the Buss family. They're ranked first or second on every single draft board in every single front office for a reason and nothing is going to change that at this stage, short of a Joel Embiid-type injury shock. Ingram will be the Durant to D'Angelo Russell's Westbrook and a new era will commence.
Pick 3 – Boston Celtics (Needs: SG, PF, C)
Selection: Buddy Hield, SG, Oklahoma (Previous: 3)
This is one of the toughest picks in the draft to predict as Boston could go a number of different ways. Trading the pick is still a very serious option and the rumours of exchanging it for Jahlil Okafor have merit. It's possible they might need it to lure Kevin Durant to Beantown, so if Danny Ainge does keep it, he's taking one of Hield, Dragan Bender, Jamal Murray or Kris Dunn. I'm not buying the Marquese Chriss hype this high. He's too much of a risk for a team trying to advance in the playoffs. Bender is a strong option, but Hield is still the best fit and is proving in workouts that he can succeed as a scorer at this level.
Pick 4 – Phoenix Suns (Needs: SF, PF)
Selection: Dragan Bender, PF, Maccabi Tel Aviv/Croatia (Previous: 4)
If Brad Stevens is going to have a new Buddy, then Earl Watson might just become the Mother of Dragons. Bender is only planning to work out for the teams picking third, fourth and fifth, and with Dunn and Murray the next best available, the Suns will prefer to take a chance on Bender than stick a promising guard behind Eric Bledsoe and Brandon Knight. We know the comparison with Kristaps Porzingis, but in many ways he's a taller version of Nikola Mirotic too. He can stick the three, put the ball on the floor and hold his own defensively. He might need some mothering, or nurturing rather, before he fulfils his potential, but that potential could take him as high as his dragon wings will allow him to soar.
Pick 5 – Minnesota Timberwolves (Needs: PG, SF, PF)
Selection: Jamal Murray, PG/SG, Kentucky (Previous: 6)
The first change since Mock 1.0, Murray moves up a spot ahead of Dunn to provide depth for Tom Thibodeau's new squad. Murray's combo-guard game should be a perfect backup for the Ricky Rubio/Zach LaVine pairing, allowing LaVine to play on or off the ball as matchups dictate. Murray has really impressed in workouts so far and has some calling him the best shooter in the draft over Hield and Ingram. Murray recently broke a record for the most threes made in a two-minute period during the star drill, where a player has to move to a different spot on each attempt. He made 25-of-27 on his last attempt at the drill…in two minutes! Given the Wolves' current lack of shooting, that may be just what Thibs is after.
Pick 6 – New Orleans Pelicans (Needs: SG, PF, C)
Selection: Kris Dunn, PG, Providence (Previous: 5)
Dunn is one of my favourite players in the draft class and may end up being the best guard in the draft, depending on how his offensive game develops. His defence, though, is why he won't fall past the Pelicans at pick six. Pairing that on-ball pressure with Anthony Davis' rim protection could be a winning formula in NOLA. Dunn's decision to refuse workouts for Boston and Phoenix is an interesting one. It could cost him money, but also it may be somewhat of a red flag to certain GMs, even if he's demonstrating his competitive spirit in the process. That spirit was on display during workouts where his relentless desire to win was evident. "I love to compete every day," Dunn said after one workout. "It's good to have those NBA players come in and test our capabilities…I was taught to not back down from nobody. That's the type of player I am." That's the type of player who'll make Dell Demps look very smart at pick six.
Pick 7 – Denver Nuggets (Needs: SG, SF)
Selection: Jaylen Brown, SF, California (Previous: 7)
With the Nuggets desperately needing help on the wings, there could be a perfect fit at pick seven in Brown. He has some hype at four to Phoenix, but I think that's just hype. In this range, his combination of an NBA-ready body and offensive upside is just what the Nuggets need. He'll start his career making a living defensively, on the boards and in transition, which is a nice fit alongside Emmanuel Mudiay and Kenneth Faried, but he'll need to improve his perimeter game to fulfil his promise as a lottery-pick wing player. Brown to the Nuggets is almost a consensus among mock draft writers at the moment because it just makes sense. Why fight it?
Pick 8 – Sacramento Kings (Needs: SG, PF)
Selection: Marquese Chriss, PF, Washington (Previous: 8)
It's not yet clear what style Dave Joerger will look to implement in Sactown, but what we do know is he'll build that around Boogie Cousins. While Cuz can play up-tempo, he's better suited to a half-court type game with ball movement, shot creators and shooters around him. Having whiffed on Ben McLemore and Nik Stauskas, the Kings will likely look for more established shooters via free agency or trade and use this pick to provide some support defensively and in stretching the floor for Cousins. That means a choice between Chriss and Ellenson as stretch fours. Chriss clearly has the advantage defensively and athletically where he's described as a freak. He has a ton more upside too, possibly the most of any lottery pick, with some suggesting his range could be as high as the third pick. At pick eight, with a new era in Sacramento, the risk on Chriss' upside is minimal and could pay off hugely down the track as Cousins enters his prime.
Pick 9 – Toronto Raptors (Needs: SG, PF)
Selection: Skal Labissiere, PF/C, Kentucky (Previous: 11)
I'll be honest. Labissiere's lack of production in college was off-putting for me. Having come into Kentucky with such hype, I often wondered if he'd even declare by the end of the season. But one thing I realised is his game, like many others, is just better suited to the NBA style than the college ranks. His length, athleticism and shooting range personify the modern power forward position. While he's probably two years away from contributing (perfect timing next to Bruno Caboclo), the Raptors don't really need to add someone to help them right away and have another first-round pick at 27. They could stick Labissiere in the D-League for a year and bring him along slowly. If they want immediate help, they'll probably look at Ellenson here, but I think the Skal upside is worth taking a chance on with this bonus pick.
Pick 10 – Milwaukee Bucks (Needs: PG, SG, C)
Selection: Henry Ellenson, PF/C, Marquette (Previous: 9)
It still remains to be seen what the Bucks will do with Greg Monroe and Michael Carter-Williams, and replacing either here is an option, but when you're not sure, taking the best player available is always the smartest play. Ellenson is definitely that if the draft plays out as I've predicted. His stretch-four game suits the Bucks, who need more shooting, and his ability to play some backup five would give them more options and flexibility. Ellenson, who shot only 29 percent from deep in college, has shown in workouts that his range is more consistent than that. Plus, he's a hometown guy having played in the building with Marquette. Like a Teenage Mutant Ninja Turtles remake, it just makes sense.
Pick 11 – Orlando Magic (Needs: PG, PF)
Selection: Dejounte Murray, G, Washington (Previous: no rank)
If Elfrid Payton is really not the preferred point guard of the future in the Magic Kingdom, then this is the range to find a replacement. Murray, Wade Baldwin IV and even Tyler Ulis could get a look here and while Ulis may be the most polished, his size may limit his draft stock. Size isn't an issue for the 6-foot-5 Murray, who has a 6-foot-11 wingspan to boot. He may be rawer, but from an upside perspective and the ability to both create for teammates and become a menace defensively, Murray has the edge. Frank Vogel likes taller point guards who can set the tone defensively and run an offence, but also score when needed. Murray fits that bill. With the development of Aaron Gordon and continued emergence of Nikola Vucevic and Victor Oladipo, the Magic need a complementary starter. With Payton still around, they could bring Murray along slowly.
Pick 12 – Utah Jazz (Needs: PG, PF, C)
Selection: Jakob Poeltl, C, Utah (Previous: 10)
As I said in Mock 1.0, it's tough to predict what the Jazz will look for with this pick, but whomever they grab, it will likely be to add depth. Poeltl could go as high as eighth, so he won't fall much lower than this range. He's polished, long and an effective post player, which is a bit of a contrast to what Rudy Gobert gives them offensively right now, meaning Poeltl could make for a great backup. He'd need to add strength, as Gobert did, but he's been competing in workouts to prove he can hold his own in that department. "I want to stay the type of player I am right now, just get stronger in the process. I've noticed some improvements already," Poeltl said after a recent workout. The Jazz will hope he can help them improve into a playoff team finally.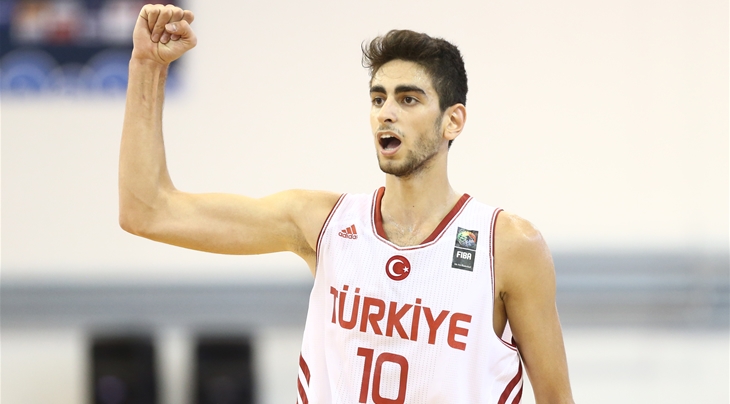 Pick 13 – Phoenix Suns (Needs: SF, PF)
Selection: Furkan Korkmaz, SG/SF, Anadolu Efes / Turkey (Previous: 12)
This is the Suns' second pick in the lottery and after grabbing Bender, they'll likely look for some help on the wing or in the backcourt. They can also afford to take a bit of a gamble here, so Korkmaz is very much in play. He'd provide the shooting, length and upside that they'd be looking for, while also potentially some entertainment factor given his penchant for playing to the crowd. At 6-foot-7, Korkmaz has great size for either wing position, is clearly athletic enough to hang with the likes of Knight and Bledsoe, plus he'd have some Euro buddies to hang with in Alex Len, Mirza Teletovic and Bender. You can read what they get up to in the Turkish Sun.
Pick 14 – Chicago Bulls (Needs: PG, C)
Selection: Denzel Valentine, SG/SF, Michigan State (Previous: 14)
The Bulls will be looking for someone who can contribute right away. Deyonta Davis and Domantas Sabonis will both get serious looks, but either would just exacerbate the logjam up front in the Windy City.  So it comes down to Ulis as a backup point guard or Valentine to add depth on the wing. Valentine seems the surer thing of the two, and provides coverage for Jimmy Butler, Mike Dunleavy and Doug McDermott, who've all had injury issues the past two seasons. He's polished, has a high BBIQ and would be able to help push the Bulls back into postseason play, where they belong.
Next Best: Deyonta Davis (PF, Michigan State) Domantas Sabonis (F, Gonzaga), Tyler Ulis (PG, Kentucky), Wade Baldwin IV (PG, Vanderbilt), Ante Zizic (C, Croatia), Thon Maker (F, Australia), Malachi Richardson (SG, Syracuse), Timothe Luwawu (SG/SF, France), Demetrius Jackson (PG, Notre Dame), Patrick McCaw (SG, UNLV), Cheick Diallo (PF, Kansas), Malik Beasley (SG, Florida State)
There's a lot of movement happening in that 7-14 range and beyond, so be sure to check back in as workouts wrap up, but in the meantime, keep hope that you're favourite team will nail its pick.
For more coverage, look out for my draft series, which will commence here this weekend.

Follow me on Twitter @tomhersz
Follow Downtown @downtownball