In his 2009 'Book of Basketball' Bill Simmons posed the following question:
If Earth had to play a game against basketball-playing Martians with the future of mankind on the line, and we could use a time machine to get any players we wanted from throughout history… what would be the best basketball team we could possibly assemble to save Earth from destruction?
In the end, he settled on a starting five made up of '86 Larry Bird, '03 Tim Duncan, '85 Magic Johnson, '92 Michael Jordan and '77 Kareem Abdul-Jabbar.  I wouldn't want to be those Martians.
But it begs the question…. If those mutant Aliens invaded earth tomorrow and we were forced to play a game for the planet's pink slip without access to the aforementioned time-machine – who would you roll with?
Recently I selected my Power Forward to Save the World.  Today, in the second instalment of my five-part series on heroic players to save the world, I make my selection for the Point Guard position.
Honorable mentions:
Rajon Rondo
Damian Lillard
Kyle Lowry
Goran Dragić
Mike Conley
6. Kyrie Irving (21.2pts, 3.6rbs, 6.2ast, 1.4stls, 43%FG)
This is my Kevin Love selection of the point guards, in that I know plenty of people will be upset with how low I have listed the Aussie-born superstar. He has the numbers and he is clutch but, just like Love, there were simply too many major chinks in his armour for me to have him any higher.
Here is the rub with Kyrie: I need my PG to be a leader, especially when faced with mutant aliens trying to destroy our planet. Kyrie can't even gain the respect or manage to lead Dion Waiters, how is he going to lead the best current players known to man? I'm also going to need my PG to be a distributor first and scorer second; someone who is able to get all of his teammates involved in the game and feeling good. These are NOT Kyrie's strong suits. He has the leadership skills and poise of Colonel Custer (look him up!) and more often than not you need a crowbar to wrench that ball from his hands if it's not leading to a guaranteed dime on his stat sheet.
Not convinced?  Well…. Charles Barkley, Kenny and the TNT crew agree with me.
5. Tony Parker (17.1pts, 2.3rbs, 5.9ast, 0.5stls, 50%FG)
He is older, a step slower and nowhere near as exciting as the rest of the players on this list, but tell me he wouldn't do a great job. You can't and neither can I. TP would be the MacGyver of PG's to Save the World. It would not always be pretty but with a little chewing gum and a paper clip he would hold it all together to get us the result.
Parker is one of the more clever PG's in the NBA and he knows how to play on the big stage which would be important as a few interested punters would probably be checking in on this one. Parker also has a ridiculous ability to score in the lane amongst traffic and his FG% separates him from the others in terms of high efficient scoring.
While all of those attributes are crucial for our PG, the fact is that father time is slowly catching up and Parker's numbers are simply not what they used to be and that is why he has slid to number 5 on my list.
4. Russell Westbrook (21.1pts, 5.7rbs, 7.0ast, 1.9stls, 43%FG)
Rusty Westbrook looks much like a mutant himself…. a Teenage Mutant Ninja Turtle to be specific.  Westbrook embodies most of the attributes needed to be a world saving PG: he has the build, athleticism, speed, numbers and of course, Turtle Power!
The missing link in Westbrook's chainmail, however, is his decision making. Westbrook has often been criticized for his inability to get the rock to Durant late in games. Although he has come a long way this year in fixing that issue, he still settles far too often for his pull-up jumper late in games while refusing to defer to KD. So whilst he may have all the physical attributes necessary to Save the World, without Splinter there to advise him I can see this one going the way of Bebop, Rocksteady, Shredder and the other mutants.
3. Steph Curry (23.7pts, 4.3rbs, 8.4ast, 1.5stls, 46%FG)
The top 4 all present with serious claims to be our number one selection. Curry can do it all; he dimes, he's clutch, he's competitive and he is smart. Curry separated himself from the rest of the list with the 3.3 threes per game that he is averaging this season. Curry has already broken numerous 3 point shooting records this season and, despite being only 26 years old, is already considered by many (including President Obama) to be one of the greatest shooters of all time. I wouldn't be surprised to see him top that list by the time he is all said and done. The two things that held the son of Dell back were his defense (or lack of any interest in playing it) and his size. In a game like this Steph Curry's fragile ankles and slight frame would see him ending up looking as flat as a pothole cover before the end of the first quarter. I'm imagining chants of 'weight room' coming from the Monstars bench.
2. John Wall (20pts, 4.1rbs, 8.7ast, 1.9stls, 44%FG)
John Wall is one of my favorite players in the NBA because of one reason: the guy is a fierce competitor. He desperately wants to win and genuinely wants to be regarded as one of the greats. Sure, he is not there yet, not even close, however if he can keep up the level of play from this season going forward then he will start to knock on the door soon enough. The difference between Wall and, let's say, IT2's breakout seasons this year, is that I believe Wall will continue on to be the best PG in the league once father time catches up with CP3. Wall scores, rebounds, dimes and steals all at elite levels for a PG in the NBA. His lack of a consistent perimeter shot probably cost him the top spot but even that has been dramatically improved since last season. His team is now winning and that is due to Wall developing into a floor general and a leader for the Wizards. There was not much separating the top four positions on this list but even less separating the top two.
1. Chris Paul (19pts, 4.4rbs, 11ast, 2.6stls, 46%FG)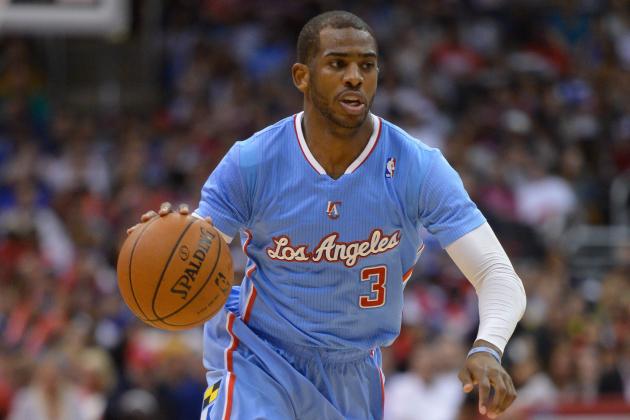 I mentioned that I love John Wall for his competitiveness and I do… but with Kobe on the sidelines there is simply no more competitive a player in the NBA than Chris Paul. The list of reasons as to why CP3 is our world-saving PG goes on and on and on and on… I can't imagine much resistance for this decision but here's a few of the reasons that locked it in for me.
He throws over 2 more dimes than anyone else on this list
He is a proven winner (this year will mark his sixth trip to the postseason across his nine year career)
He is widely regarded as the smartest PG in the NBA
He reads the play better and creates more steals than any other PG in the game.
He is clutch and he gets the ball to the right places in crunch time
He has an extremely reliable and consistent jump shot, floater and three ball; making him a nightmare to guard on offense.
His handles and passing ability are unmatched in the NBA.
So there you have it. If the mutant aliens were to invade tomorrow and challenge the world to a game of basketball for the planet, you can rest assured that Chris Paul would be the first point guard I'd hit up on my contact list.
With CP3 alongside LaMarcus Aldridge, I'm starting to feel a little safer already.
Follow me on Twitter: @tommygreer10
Follow Downtown: @downtownball