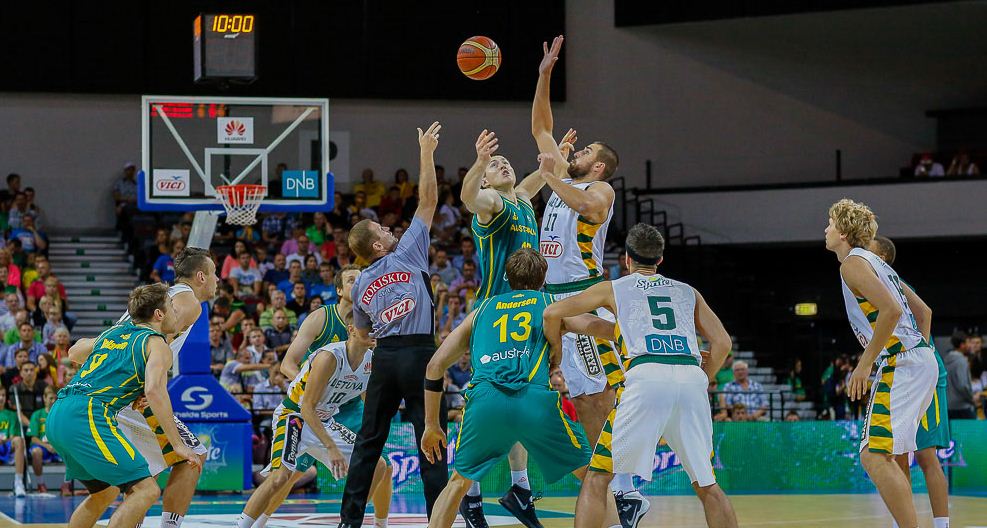 To win or not to win, that is the question.
After bouncing back from a Day 1 loss to Slovenia with an emphatic victory over Korea, Andrej Lemanis and the Aussie Boomers coaching staff are now faced with a very, very difficult decision.   It's a decision that involves the tricky Team USA Two-Step; the inevitable jockeying for group-stage position that takes place to avoid Team USA in the Quarter Finals.
Here's the bottom line for the Boomers: we need to finish either 1st or 3rd in Group D to have any chance at a World Cup Medal.
It's that simple.
Finishing 2nd in the pool, sandwiched somewhere between Slovenia and Lithuania will offer a slightly more favourable opponent in the round of 16 but presents yet another date with destiny in the quarters against the U-S-of-A.
The Boomers met Team USA in the Quarter Final stages of both the 2008 and 2012 Olympics, ruining any hopes of being involved in medal round shenanigans.
Enough is enough.  If you ask me (which, incidentally, nobody did), It's time to start playing the system and quietly go about avoiding that route.
The draw, including the knockout rounds, looks like this: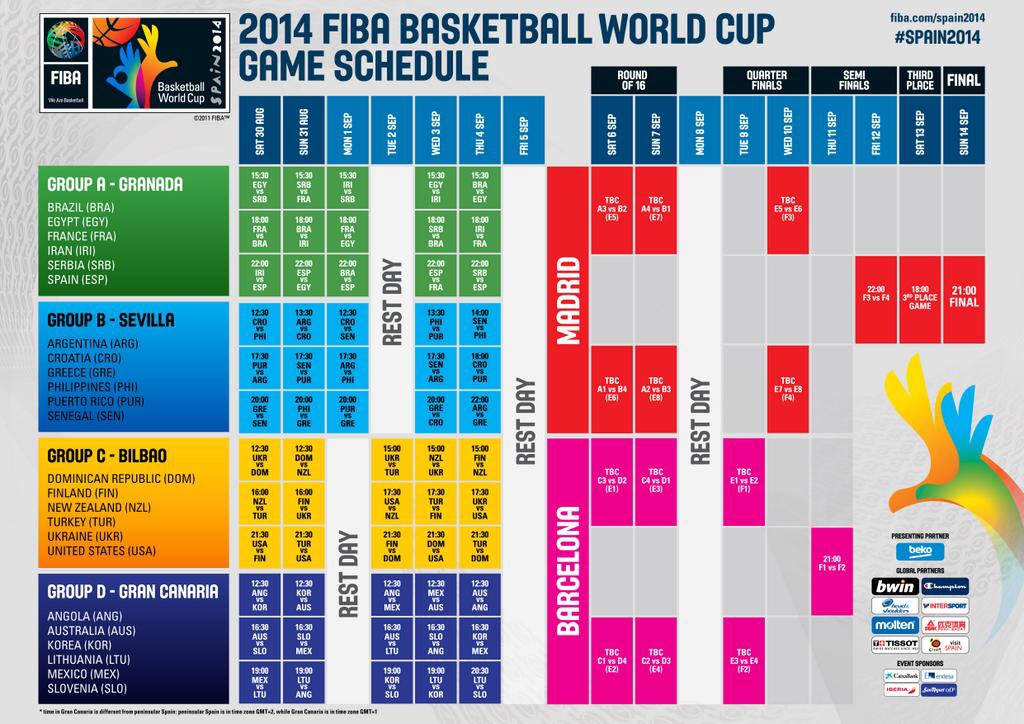 As you can see, the top four teams from each of the four groups will progress to the Round of 16 with the draw essentially broken up into two conferences, the A/B Conference and the C/D Conference.  The champions from each conference will play off in the Gold Medal Game while the runners up in each conference will fight it out for the Bronze Medal.
Let's imagine Groups C and D look like this at the conclusion of the preliminary rounds:
In the Round of 16:
1st in Group C (USA) will play 4th in Group D (Mexico)
2nd in Group C (Turkey) will play 3rd in Group D (Australia)
3rd in Group C (UKR/FIN/DR/NZ) will play 2nd in Group D (Slovenia)
4th in Group C (UKR/FIN/DR/NZ) will play 1st in Group D (Lithuania)
The important element of the draw, however, is what happens next.
In the above scenario, USA would likely play Slovenia in the Quarter Finals while the other QF in the C/D Conference would likely be between Lithuania and the winner of Turkey vs Australia.
We shouldn't be scared of Turkey, nor should we be scared necessarily of Lithuania.  I don't know if scared is the right word but shouldn't we be trying to avoid playing Anthony Davis, Steph Curry, James Harden and the rest of the stars and stripes prior to the medal rounds if at all possible?
Of course, finishing 3rd in Group D does involve ensuring victory over Mexico and Angola, neither of which are easy-beats by any stretch of the imagination.
Nonetheless, it doesn't take John Nash to work out that, having already lost to Slovenia, a loss to Lithuania and subsequent victories over our other Group D opponents offers the Boomers the best chance at obtaining Australia's first ever Men's Major Championship Medal; the stated aim of this group heading into the tournament.
Let's go over some of the tricky steps of the Team USA Two-Step:
What if we beat Lithuania, can we still finish 1st?
Technically, yes.  If Lithuania defeats Slovenia and all three of the Boomers and the Euros defeat Angola, Korea and Mexico there will be a three-way tie at the top of Group D.  Placings 1-3 will then be decided by point differential from games between us, Slovenia and Lithuania.
But here's the straight talk: that's a long-shot.  If we beat Lithuania, I'm putting absolutely everything I own on Valanciunas and his boys losing to Slovenia in the final pool game, thus assuring them a 3rd place finish and avoiding Team USA.   And guess where that will land us! (well, I'll be in the money… but the Boomers will be in the shit)
Is it the right thing to do… you know, ethically?
Hmmm…. Good question.  I'm not really sure.  But I am sure of one thing: I really, really don't want the Boomers to play Team USA in the Quarters.  Not again, please!
Has the Team USA Two-Step ever been danced before?
"No, never."  That's what Spanish point guard Jose Calderon said after his team lost their final pool game against Brazil two years ago at the London Olympics and thus very conveniently avoided playing Team USA until the Gold Medal Game.
Do you really want the Boomers to throw their game against Lithuania?  Match-fixing?  Really?
No I don't, but I don't necessarily want us to kill ourselves in the process of trying to win it either.  The harsh reality is that Lithuania will probably beat us anyway but if Joe Ingles, Aron Baynes and Matthew Dellavedova each play 35 hard minutes in that loss, that will feel like a double-loss to me.
What would make sense is for Lemanis to run a constant rotation of 9-10 guys, with plenty of minutes for young guns Dante Exum, Cam Bairstow and Brock Motum (can't we just call him Brotum?), ensuring that all our guys are fresh and healthy for the crucial games over the following two days against Mexico and Angola.  If he does that, and our guys play so well that we beat the #4 ranked Lithuanians, then all power to us.
Hopefully, in that scenario, we beat them soundly and I turn out to be wrong about Lithuania in their game against the Dragic bros.  But as Indiana Jones says to Walter Donovan while discussing the search for the Holy Grail, "I've heard this bedtime story before," and it usually ends with the Boomers playing Team USA in the Quarter Finals and (arguably) bowing out before our time.
The important thing here is that our focus should be on the Mexico and Angola games… the loss to Slovenia has meant that the ideal time for upsetting Lithuania is probably not tomorrow night - it's in a week from now.
If you close your eyes and imagine, can't you see these Boomers beating Turkey in the Round of 16 and going on to topple Lithuania in a massive (but entirely possible) QF boil over?
Wouldn't it be great to see them take on USA in the Medal Round before tackling Argentina/Croatia/France/Brazil for the bronze medal?
"Now that's a bedtime story I'd like to wake up to."
Follow me on Twitter @liam_santa
Follow Downtown @Downtownball