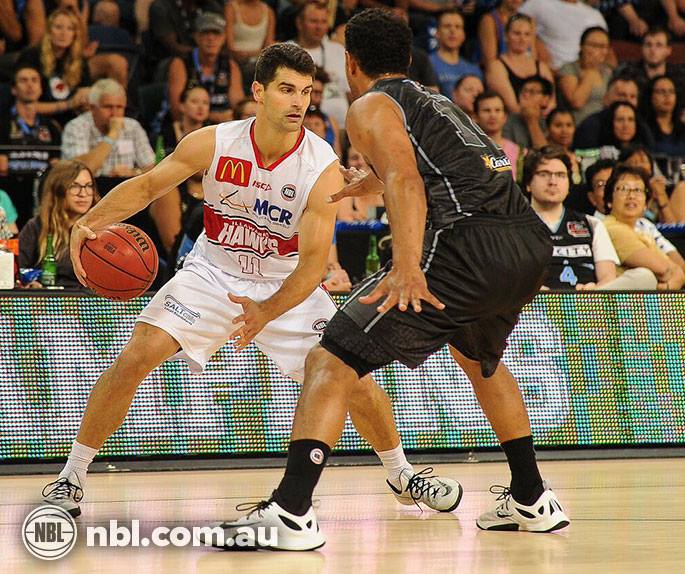 The Illawarra Hawks found themselves in a world of trouble on Sunday afternoon.
Down 11 midway through the fourth quarter in New Zealand, the Hawks had lost offensive destroyers Kirk Penney and Oscar Forman to injury and foul trouble respectively. AJ Ogilvy soon joined them.
Kevin Lisch was the only man capable of digging the Hawks out of their seemingly insurmountable hole. After all, he had no choice. He was Illawarra's last star standing.
Just as well he'd done this before.
Lisch helped force the game to overtime, before dropping 19 points across two overtime periods, getting to the rim – and by extension the free throw line – like a mad man while hitting from deep without conscience.
Once the dust settled, Lisch had notched up a career high 40 points and dragged the wounded Hawks to a near-unthinkable victory, making big plays at almost every conceivable opportunity when the chips were down.
To watch Lisch play in big moments is to watch a man who's so focused on the task at hand that the weight of the moment couldn't possibly overwhelm him. A man so focused that doubt and fear become irrelevant, foreign concepts.
"You just kind of do it," Lisch said when asked of his thought process behind hitting big shots.
"A lot of times at the end of games the ball is in my hands, and it's just fun to have a go at it and see what happens."
Behind each flawless crunch-time play, however, lies hours of gruelling work.
Arrive at an Illawarra practice and you're sure to find a sweat-drenched Lisch already working out on the far court. He goes through the same routine before every practice, one which features a heavy focus on ball handling and leaves onlookers stunned.
"It's absolutely electric," Illawarra head coach Rob Beveridge said.
"It's Steph Curry type of stuff; through the legs, behind the back, double cross-over, full court."
It's this kind of ferocious work ethic that has endeared Lisch to coaches throughout his career. One of those coaches was Lisch's assistant coach at Saint Louis University, Chris Harriman.
Keen NBL observers may remember Harriman from his Hunter Pirates and Sydney Kings days. Before that, he was a member of Rob Beveridge's Under 20 New South Wales team.
When Beveridge became the head coach of the Perth Wildcats in 2009, he was in the market for an import. Bevo wasted no time in calling Harriman, a man Beveridge affectionately remembers as 'a bit of a ratbag kid' during his junior days.
Harriman spoke so highly of Lisch that Beveridge was close to being sold then and there. He ran Lisch's name by several NBA contacts, and when they provided similarly positive reviews, Beveridge called Lisch straight away.
"I didn't even look at tape," Beveridge said.
"After the fact I did, but Chris' word was good enough because I trust him with my life. Kevin ticked every box that I wanted."
Just over sixth months later, the Illinois native led his first professional team to the 2010 NBL Championship, and beat his current team to get it.
The star guard claimed the 2010 Grand Final MVP Award as his Wildcats defeated the Wollongong Hawks 2-1 in a best of three grand final series.
Lisch cherished the time he spent in Perth, which for him was the home of many lifelong memories.
"I played with a lot of those guys for all four years and that was my first professional team," Lisch reminisced.
"It's great to see them around. It's also fun being on the other side now."
Despite his rapid rise to stardom in Perth, it wasn't all rainbows and sunshine for the high scoring guard when he first arrived in Western Australia
While Beveridge was quietly chuffed with his signing of Lisch upon taking the reins in Perth, much of the Wildcats' rabid fan base – brought up on a steady diet of star imports and endless success – didn't feel the same way.
"Generally Perth has gone with higher profile imports, the Ricky Graces and James Crawfords, and I've gone with a 6'1 white kid out of Saint Louis," smiled Beveridge.
"He wasn't the kind of player the Wildcats generally recruit."
Some Perth fans were calling for Lisch's head as early as the preseason tournament.
"All the experts out there made it pretty tough for him, but that fast tracked him to becoming a pro," Beveridge said.
"I had absolute faith in him from day one, I knew he was going to be special. His attitude, the way he trained, it was just a matter of time."
Well before the championship confetti rained down at Challenge Stadium, Beveridge and Lisch had formed an incredibly close relationship which transcended winning.
The relationship began with an oath.
"I made a promise to his mum and dad, who were going to be 15,000 kilometres away, that I would take care of their son," Beveridge said.
While Beveridge landed Lisch his first job out of college, his impact on the star import's life extends well beyond the court.
"He introduced me to my wife Rachel and spoke at our wedding," Lisch said.
"I'm just very fortunate to be in a situation where I have someone who's a great coach, but also a great person who really cares about us as people."
Beveridge took the American under his wing from day one and says he adopted something of a father figure role.
"I started coaching him as a kid straight out of college at 22 years of age," Beveridge said.
"We've been close ever since. He's like a son and I'd do anything for him. He's just a quality human being."
Lisch went on to spend another three years with Perth. The Wildcats made the playoffs every season –as is tradition out west – and Lisch claimed the 2011/12 Andrew Gaze Trophy as the NBL's Most Valuable Player.
Following the conclusion of the 2012/13 season, Lisch decided to broaden his horizons a little further, joining Puerto Rican club Piratas de Quebradillas. There Lisch teamed up with Wildcats teammate Shawn Redhage and won the national league title.
"That was one of my more unbelievable experiences," Lish said of playing in Puerto Rico.
"The city we were playing in just lived and breathed basketball. It wasn't a big town and they hadn't won the championship in 35 years.
"After we won it all, people were crying in the streets, we had a parade that lasted all day, it was kind of a surreal experience."
Following his Puerto Rican triumph, it was on to France and Spain. There the former Saint Louis standout traded his superstar status for a more defined role, playing within the highly structured and methodical systems that have come to define European basketball.
It was in Europe that Lisch welcomed two new additions to his young family; his son Benjamin was born in France, while his daughter Sofia was born in Spain 15 months later.
With two little ones on the scene, and after spending a season each with JSF Nanterre of France and CAI Zaragoza of Spain – where Lisch teamed up with Chris Goulding – Kevin and Rachel eventually decided it was time to return home.
"I was keeping all options open and was actually really close to re-signing in Spain," Lisch said.
"Then Illawarra came out of voluntary administration, and that was always a place that interested me."
Once Rob Beveridge became Illawarra's head coach he contacted his old pal. Beveridge told Lisch he was looking for an import, and jokingly asked if he could recommend anyone.
"One thing led to another and it was just too good an opportunity to pass up," Lisch said.
Suddenly Lisch and Beveridge were reunited, this time in Illawarra, just over an hour away from Rachel's family and Benjamin and Sophia's grandparents.
It was fairytale reunion, but Lisch's quest to bring Illawarra from worst to first hardly got off to an ideal beginning.
Part way through Illawarra's season opener, Lisch ran into a hard Alex Loughton screen…
Like eating porridge with your hands, screens as brutal as Loughton's are perfectly legal, but very hard to watch.
Lisch left the game with a minor soft tissue knee injury and missed the next three games, joining backcourt companion Rhys Martin on the sideline as the Hawks got off to a 0-2 start.
As always, the newly signed Hawk remained optimistic throughout a setback which was more ill-timed that it was lengthy.
"It was frustrating, I'd never missed a game in the NBL," Lisch said.
"But a lot of times it's those guys that can deal with adversity the best that become pretty successful."
Upon Lisch's return, he was asked to play point guard with Rhys Martin still sidelined.
While Lisch primarily played at the point in Europe, doing so with Illawarra took him out of his natural scoring role. It also threw the team off-balance with various Hawks playing out of position due to the domino effect caused by Martin's absence.
Lisch was asked to run the offence, shut down the opposition's better players, score and play over thirty minutes a night.
Despite carrying a hefty load relatively fresh off an injury, Lisch grabbed the opportunity with both hands. After playing well below his peak initially, he swiftly returned to his old form, dropping 25 points, 5 rebounds and 5 assists on 64% shooting in his second game back.
Since arriving in Illawarra, Lisch has thrived in Rob Beveridge's system which emphasises pushing the pace and moving the ball. He's only grown more deadly since slotting back into his preferred shooting guard role.
Along with AJ Ogilvy and Kirk Penney, Lisch has spearheaded an offence so deadly it sits head and shoulders above the rest of the league.
Illawarra leads the league with 94 points per game, a remarkable feat in the forty-minute era. To provide some context, Adelaide is a distant second with 87.8.
The Hawks are also proud owners of the best offensive rating in the land – 117.7 – which refers to the number of points scored per 100 possessions. Melbourne is next best with 114.5.
"It's definitely an exciting way to play and I think the fans enjoy it," Lisch said.
"It's a lot of fun and gives you a lot of freedom, but at the same time everyone still has their roles and there are obviously rules within the system.
"I think as we become a better defensive team and rebound better, it's a very successful system and plan of attack."
While the Hawks have taken action to recover from their old defensive and rebounding woes – Lisch joked that the first step for Illawarra was admitting that they had a problem – his teammate Oscar Forman believes Lisch is the perfect man to spearhead an elite defence.
"I only ever knew him as an offensive player, but as a defender is where he's impressed me the most," Forman said.
"He's always so poised, so balanced and has a strong claw on him. He'll just get in there and rip the ball away from someone.
"If he gets posted up by a big guy, he'll fight to make sure he makes life tough for him. He really takes the defensive challenge."
Despite the team having a tough time on defence early on and losing their first two games, those initial growing pains were eased by having a playing group that gets along like a house on fire.
"When we started 0-2, we were still saying to each other 'man, this is fun'," Lisch said.
"The bottom line is that basketball is a fun game, and through the ups and downs, that's the key … the way your team gets along with each other, that's half the battle."
Lisch can't compliment his fellow Hawks enough, and Oscar Forman is quick to return serve.
"He's just one of those awesome teammates, one of those good guys you want on your side," Forman said.
"He's involved in everything; he wants to be in every conversation. He's happy to play jokes, take jokes, one of those kinds of guys."
What strikes Beveridge is not just Lisch's incredibly friendly nature, but the effect his personality has on others.
"He's just someone with that infectious effect on other people, just how nice and polite he is," Beveridge said.
"Everybody loves Kev."
According to Forman, even on the rare occasions that Lisch comes down hard on teammates, his mean stare doesn't last long.
"One time he yelled at one of the rookies about something, and instantly looked over at Kirk on the sideline, smiling as if to say 'hey, see that? I just got mean'."
Lisch's 'Mr. Nice Guy' persona has also led to some friendly ribbing from his teammates, some of whom struggle to comprehend how someone could be so thoroughly pleasant all of the time.
"We have a group chat on WhatsApp and we give him the most sh*t out of anyone," Forman said.
"But mainly because there's no real reason to give him sh*t."
For Beveridge, the endless banter is just another sign of how close knit his team is.
"It's great that we can stir Kev up so much and have him just take it in his stride," Beveridge said.
"He can laugh at himself; he's really become an Aussie in that way."
While Illawarra's tight-knit playing group has a lot of fun together off the court, they're maintaining a laser focus as they edge towards the pointy end of the season.
"Our first goal was to make the playoffs, but I think we're in the position where we can push even further," Lisch said.
Illawarra undoubtedly has the championship pedigree to compete for a title, and Lisch is the perfect candidate to take them there.
Just ask Illawarra fans. After beating out the Hawks for the 2009/10 championship, Lisch has long been etched into their nightmares.
Yet if he continues at his current pace, he may well etch himself into their history books too, and replace those nightmares with sweet, sweet championship memories.