Head still spinning from the value of all these new NBA contracts?
Still struggling to figure out how $16 million this July is the same as $10 million just a year ago?
Imagine how the players who locked themselves up in the past year or two are feeling now. Like Malcolm Turnbull after calling for a double dissolution election nine weeks ago, I'm guessing they're wishing for a do-over.
You know who's not looking for a do-over though? The GMs and owners who locked up those players in previous years. They're quietly thanking the stars above for their good fortune right now, as the Lakers and Wizards shell out $16 million a season for backup centres and Mike Conley is suddenly earning more on his new five-year deal than Scottie Pippen did over his career—by $44 million!
No, those GMs are grateful for the value their franchises are going to enjoy, while they still can.
Who's leading the way in that space? Here are some honourable mentions followed by the six best value contracts going into the 2016-17 NBA season.
Honourable mentions:
Raul Neto (UTA), two years and $2 million remaining on deal
He started 53 games as a rookie last season with the Jazz, who paid him $1 million and will pay him $1 million more each of the next two seasons. With Dante Exum returning and George Hill coming to town, Neto will move to the bench and be a serviceable backup. Milwaukee now has a serviceable backup making $9.6 million per year. Onya, Delly.
Derrick Favors (UTA), two years and $22.9 million remaining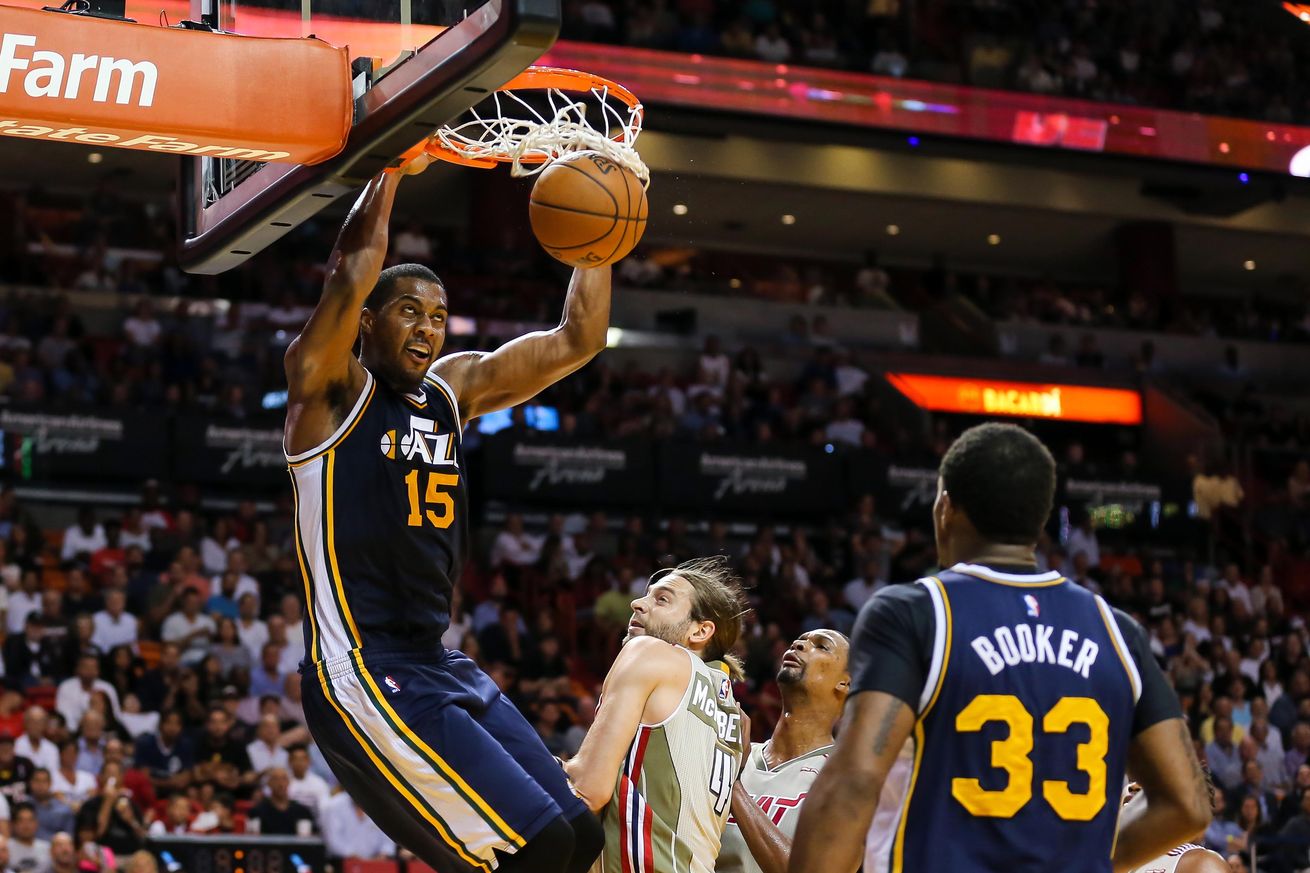 The big man is halfway through a four-year, $47-million extension with the Jazz, which looks great compared to the four years and $64 million the Wizards will be paying Ian Mahinmi.
Nikola Mirotic (CHI), one year and $5.8 million remaining
Mirotic and his agent smartly delayed his NBA arrival until he would be off the rookie salary scale so he could sign for a figure closer to the mid-level exception. He is entering the final year of his three-year deal that will pay him just $5.8 million this season, which has given the Bulls plenty of cap space to throw away on Rajon Rondo. Oops.
Marcus Morris (DET), three years and $15 million remaining
Stan Van Gundy may have gotten lucky with this one as no one expected Morris to be as effective as he was. His four-year, $20-million contract, signed during his Suns days, may turn out even more effective in today's market.
Trevor Ariza (HOU), two years and $15.2 million remaining
Ariza has two years left on a declining scale four-year, $32-million deal from when the Wizards did a sign-and-trade. Daryl Morey is loving that value now that his old friend Chandler Parsons just landed nearly triple that amount ($94.4 million) over four years.
Nikola Vucevic (ORL), three years and $36.8 million remaining
With the crazy money going to free agent centres like Timofey Mozgov, Mahinmi (four years and $64 million each) and even the more deserving Hassan Whiteside (four years and $98.4 million), Magic GM Rob Hennigan has to be loving that he locked up Vucevic for four years and just $48 million, with three years still remaining.
Al-Farouq Aminu (POR), three years and $22 million remaining
Aminu signed a four-year, $30-million deal with a slightly sliding scale a year ago. Neil Olshey, who signed him to that deal with the Blazers, was with the Clippers when they drafted Aminu and clearly valued him. Teammate Allen Crabbe reportedly signed Brooklyn's offer sheet of four years, $75 million, while Solomon Hill will make $48 million over the next four years in New Orleans. Aminu is still just 25 years old.
Omer Asik (NOR), four years and $43.8 million remaining
Pelicans GM Dell Demps signed Asik to a five-year, $58-million deal last summer (four years and $44 million guaranteed), which was called an overpay at the time. Asik at five years for $58 million or Mozgov at four for $64 million? You decide.
Stephen Curry (GSW), one year and $12.1 million remaining
We all know how underpaid the reigning two-time MVP is. Curry is in the final year of his "spaghetti ankles" contract and will earn just over $12.1 million this coming season before he likely becomes one of the two or three highest-paid players in the league next July.
Klay Thompson (GSW), three years and $53.5 million remaining
Warriors GM Bob Myers inked Thompson to a five-year extension that has three years and just under $54 million remaining. He may take on a slightly reduced role with Kevin Durant joining their party, but Bradley Beal will make $71.3 million over the next three years by comparison (poor John Wall).
Now the six best deals on the books before this free agency period opened:
6 – Kyle Lowry (TOR), two years and $24 million remaining on deal
This All-Star point guard's contract may just make Raptors GM Masai Ujiri the King of the North. Lowry signed a four-year, $48-million deal—which includes a fourth-year player option—in 2014 before he got skinny. He will likely opt out of the final year given the cap rise, making it similar to Curry's deal, but it's still incredible value for the best player on a Conference Finalist. Meanwhile, his teammate DeMar DeRozan will now be earning $29 million per year.
I'd ask Masai to take a bow, but then, he just paid DeMar DeRozan $29 million per year.
5 – Anthony Davis (NOR), five years and $120.4 million remaining
Davis inked his five-year, $145-million extension a year ago, but missed out on the Derrick Rose provision bump by failing to make an All-NBA team or be named an All-Star starter this past season. That saved the Pelicans $24 million, and his contract now looks cheap compared to that of Andre Drummond, who just signed for five years and $127.2 million.
I'm sure Davis raised his eyebrow at that one.
4 – Khris Middleton (MIL), four years and $55.3 million remaining
When Middleton parlayed his strong finish to the 2014-15 season into a five-year, $70-million deal last summer, it was scoffed at. He was unproven, they had Giannis Antetokounmpo and Jabari Parker playing similar positions, and despite the knowledge that the cap was going to increase, Middleton's deal seemed like an outlier. But now? It's good value compared to paying Kent Bazemore, Evan Turner or Luol Deng $70 million over four years, right? Middleton is just 24, by the way.
3 – Isaiah Thomas (BOS), two years and $12.9 million remaining
Need a point guard? Well, you could sign someone who has never made an All-NBA or All-Star team to a five-year, $152.6-million contract—making him the highest-paid player in the NBA—just to stop him from leaving town and forcing you to rebuild…cough cough Memphis…cough cough Mike Conley.
Alternatively, you could trade for a guard who becomes an All-Star and leads your lottery team back to the postseason and will make just $6.6 million this coming season and $6.3 million the next. You might know him as the Pizza Guy or Mr. Irrelevant, but his friends call him Isaiah.
The Celtics think he's anything but irrelevant, and he gave them cap space to have a brief shot at Durant and to sign Al Horford.
2 – Draymond Green (GSW), four years and $67.7 million remaining
Bob Myers locked up Green last summer for five years at the bargain price of $82 million. Compare that to the five years, $120 million Nic Batum just agreed to or the four years, $80 million that Ryan Anderson will earn in Houston and there's another reason for Joe Lacob to tell everyone how the Warriors are light years ahead of every other franchise. Maybe he's right?
This deal, plus the aforementioned Curry and Thompson contracts, allowed the Warriors to land Durant and form the league's first "big four," so kudos to Myers and Lacob.
1 – Kyrie Irving (CLE), four years and $77.9 million remaining
In the past four years, Irving has won an NBA title, a World Cup MVP and been named an All-Star three times. He signed an extension for five years and $90 million two years ago, which increased to $94.3 million under the Derrick Rose provision. That deal still has four years remaining, though there's a player option for the last season.
Meanwhile, Evan Fournier has a name that cannot be Googled. He inked a similar five-year, $85-million deal, but maybe you're best not to Google that either.
The savings from this deal are huge for the Cavs as they look to re-sign LeBron James and retool to keep pace with the Warriors.
There are more free agents still to sign this offseason, which is sure to cause many more "Oh my" moments. But rest assured, someday we'll look back on these new contracts as great value, just as NBA GMs are doing with the "pre-cap rise" deals listed above.
Until then:
All figures in this article are quoted in US dollars and sourced from hoopshype.com, spotrac.com or basketball-reference.com.