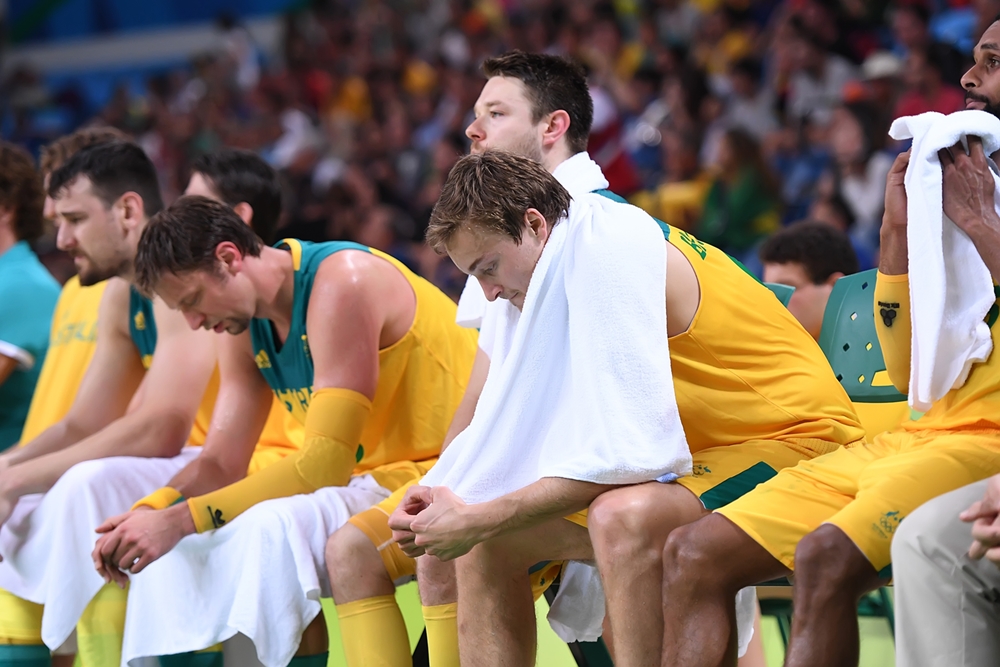 A nation awoke as one on Saturday morning hoping to witness the Boomers make history.
Within minutes, it became evident that instead we were witnessing a team being taken totally out of its game by an opponent that had clearly done its homework and scouted us, an opponent that would this time match our physicality and defensive intensity, an opponent seeking revenge.
"It was pathetic," said Joe Ingles afterwards. "Nothing Australian about it."
The Boomers looked nervous. They looked tentative and very quickly became rattled.
Just two minutes and fourteen seconds after the game started, we were in a 0-8 hole. Andrej Lemanis called for time and urged his troops to settle down.
Out of the timeout, Patty Mills hit a three-pointer with the shot clock running down. It would be the only one he'd hit all game.
The Boomers managed just five points in the first quarter, hitting only two field goals from 15 attempts.
The second quarter saw a small glimmer of hope as we scored the first five points to bring the margin within six before Serbia, behind who else but Milos Teodosic, scored eight unanswered points and deflated any momentum the Boomers were trying to build.
By halftime, although we'd held Serbia to 35 points on less than 40 percent shooting, the Boomers were staring at a 21-point deficit, having added only nine points in the second quarter. They were 6-for-29 at the main break.
That's right—the bad shooting game we were all hoping would never come materialised in the biggest game in modern Boomers history.
"You never think you're going to have an off-night, you prepare the same way and have good confidence in the group," Lemanis said post-game.
"We didn't execute on both ends," said Ingles. "We didn't execute our game plan defensively and offensively and once they got that lead, we just tried to get it back too quickly.
"We knew we weren't going to get it back in a possession or two, we had to grind and grind and grind. We had a couple of glimpses but they would hit a shot straight back or we'd have a breakdown defensively."
The Boomers were outworked, outsmarted and probably outcoached in this one. Lemanis has done an outstanding job all tournament, both pre-game and in-game, but Serbia's Sasha Djordjevic deserves all the credit in the world for what his team did to the Boomers in the semi-final.
"It's one of those things you can't explain in sport, sometimes it happens. For us now it's about moving on to the next game," said Lemanis.
Serbia, which faced Team USA in the gold medal game at the 2014 World Cup, will get its rematch. The Boomers meanwhile will head to the fourth bronze medal game in this country's history, aiming to secure our first-ever medal.
But it won't be any easier when they tip off at 12:30 a.m. AEST Monday against FIBA's second-ranked team in Spain.
The Spaniards put up a fight against the U.S. in the first semi-final, but the final score flattered them a little, as they went down 82-76.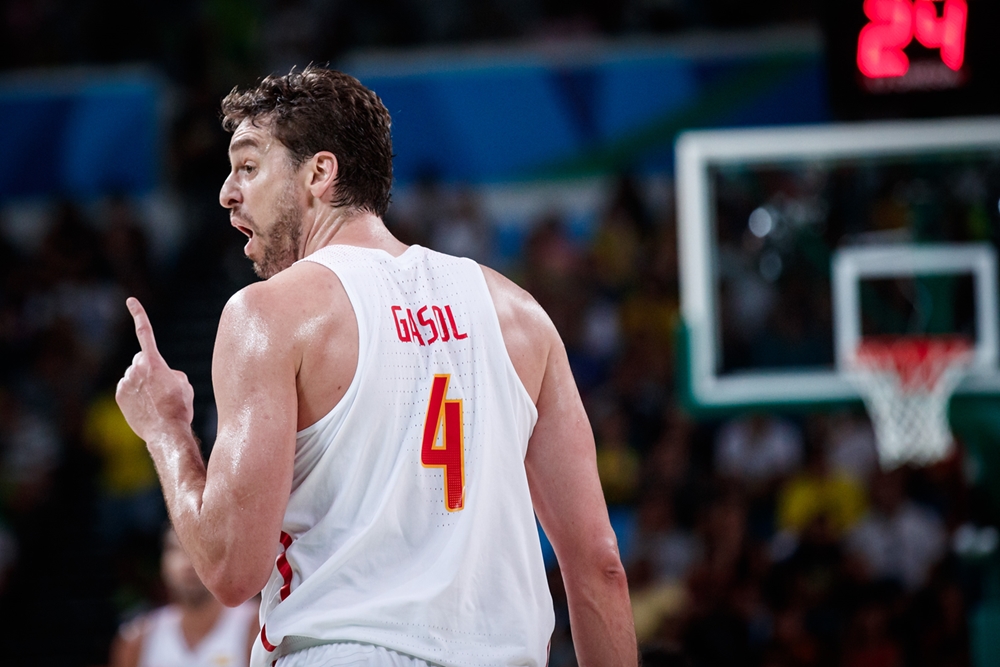 Pau Gasol was once again outstanding with 23 points and eight rebounds, occasionally appearing to be a one-man band against the Americans. He had some support from Sergio Rodriguez (11 points, five assists) and Rudy Fernandez (nine points, seven rebounds, three steals), but the game was marred by some whistle-happy officials, who had more of an influence on the outcome than the players at times.
Spain has been getting stronger as the tournament has progressed, and despite the Boomers' strong pool play and a warmup game win against this team, Spain's experience and depth will have them go into the game as favourites.
Silver medallists at the past two Olympics and gold medallists at the 2006 World Championship, Spain may be coming towards the end of its "golden era" with its core all over 30 years old. Gasol, Felipe Reyes and Juan Carlos Navarro are all 36, Jose Calderon is 34, Fernandez 31 and Rodriguez is 30, but those years of playing with each other in big games are invaluable.
They also have younger NBA talent in Nikola Mirotic and Ricky Rubio, an emerging Willy Hernangomez, and seasoned Euroleague veterans Sergio Llull and Victor Claver.
This game is going to be tough and there won't be many who'll give us a chance, but that doesn't mean the Boomers can't turn their disappointing semi-final performance around.
"We've got no choice left [but to pick ourselves up]," said Andrew Bogut. "Hopefully we can get the bronze medal."
To do that, the first thing the Boomers need to correct is their mindset. They walked off the court after their quarter-final win against Lithuania feeling on top of the world. They need to find that self-belief again.
Second is making offensive corrections. Serbia took the Boomers out of their sets early by pressing up on Bogut to limit his passing impact as well as by cutting off any backdoor opportunities. We were forced to dribble into space rather than pass into space, which ran the shot clock down and resulted in too many long jump shots.
Having some counters for that will be critical in ensuring there is no repeat of the early struggles. Getting some easy buckets, as they did in the quarters, goes a long way to settling any nerves and deflating the pressure of the moment.
The third adjustment has to be turnovers. Aside from Rubio, who has a knack for creating turnovers, their guards are mostly older. Rodriguez and Llull will press and harass, but Mills and Matthew Dellavedova can handle that. If our guards can get the offence started earlier, then it should lead to better looks.
Finally, rebounding is key. The Boomers outrebounded Serbia in the group stage game 38-34, but that was turned around yesterday and then some (43-30 to Serbia). A lot of that was attributed to the number of missed field goals Serbia cleaned up, but it also came from a total lack of aggression on the offensive glass in the first half.
The Boomers gave up critical offensive boards to Serbia during that span, which just added to their woes.
Following what can only be described as a horror offensive game, the Boomers have fallen from second to fifth in points with 85 per contest. Spain is third with 85.7, so they're evenly matched in that respect.
From a shooting perspective, Australia is still second at a 49 percent field goal clip, while Spain, who struggled earlier in the pool round, is hitting 46.3 percent (sixth). From long distance, Spain has been one of the standout teams and are second best, hitting 36.8 percent, while the Boomers have dropped after that abysmal 4-for-31 effort to just 32.3 percent.
Three-point shooting could decide this game for two reasons. Firstly, the Boomers need to be hitting at least a decent clip to open up the paint for backdoor cuts and post-ups, or else we'll become predictable again. David Andersen needs to be more involved and Ryan Broekhoff needs to play with confidence.
Secondly, nearly every one of Spain's rotation players has legitimate three-point range, with the exception of Reyes, Hernangomez and Rubio.
Gasol is hitting a ridiculous 52.4 percent of his threes in Rio, making 1.6 per game, while Mirotic (who was limited by foul trouble against the U.S.) has made two triples per game at a 40 percent clip; they are Spain's frontcourt players.
Fernandez, Rodriguez, Llull and Navarro all need to be respected from the perimeter, so how we close out and contest defensively will be important.
From a rebounding perspective, Spain and Australia are fairly evenly matched. Bogut can contain Gasol, while Baynes should have an advantage over Mirotic, but they'll need to watch Reyes and Fernandez, who both crash the offensive glass effectively.
The Baynes versus Mirotic matchup will be one to keep an eye on. Their styles are vastly different with Mirotic being a modern stretch four who likes to pick and pop, but also up-fake and drive. Baynes will have his work cut out to stay with his more agile opponent. I wouldn't be surprised to see Brock Motum play a little more here as a better matchup.
Having said that, Baynes should be able to use his strength against Mirotic at the other end and back him down in the post. Mirotic is a more capable defender than he's given credit for, but he is also foul prone, so it would serve the Boomers well to attack him early and often.
If Cam Bairstow can play, he could be a big factor given he's spent the past two seasons practising against Mirotic (and Gasol) in Chicago. But that would be a bonus. Either way, he should be able to help Lemanis plan the best way to contain that duo.
Llull, Rodriguez and Rubio will also be tough to slow down. They all like to push the pace, attack the rim off pick-and-roll sets and are adept at finding open teammates. Delly, Mills, Kevin Lisch and Damian Martin will be challenged, but are capable of keeping them in check.
Make no mistake, this game is going to be an uphill battle to win. You don't claim back-to-back Olympic silver medals without knowing how to rise in big games. Spain is battle-tested and cohesive. It's well coached by Sergio Scariolo and can beat you in a variety of ways.
Their roster is as deep as anyone's in this tournament with 11 of their 12 players having either played in or been drafted in the NBA. Reyes is the odd man out there, but he is a veteran of three previous Olympic campaigns and nine medal-winning teams between Olympics, World Championships and EuroBasket tournaments. Reyes is also a two-time MVP of the Spanish ACB league.
In other words, there are no easy matchups in this one. The Boomers will need to be locked in from the start, stay physical to bother Spain, play together as they did so well before the semi-final and believe they can get onto that podium.
Brad Newley, a veteran of the ACB, knows that team well.
"The thing we need to do is continue to play our Aussie way," Newley told ABC yesterday. "I feel if we're very physical and take them out of the things they want to do, they won't like it. If we play dirty and hard, that's our best chance to win."
It seems the Boomers know that too.
"We're Australian and we're not going to back down," Ingles said.
"It's a bronze medal; no men's team has ever done it before. We've still got a goal of winning a medal. We can't get the gold but we've got to recover, regroup and learn from it quickly."
They have less than 48 hours to do so if they still hope to make history.
Follow me on Twitter @tomhersz
Follow Downtown @downtownball