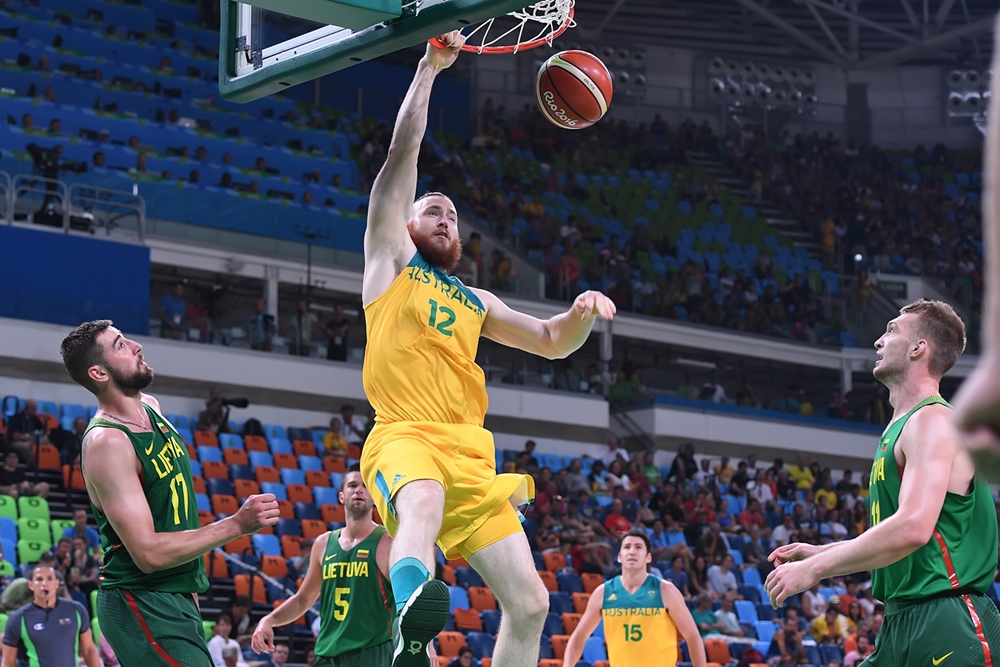 Let's start by thanking Matthew Dellavedova for reducing the collective blood pressure of Australian basketball fans inside the first 68 seconds of the quarter-final by connecting on his first two shots, both triples.
The Boomers extracted revenge on Lithuania for the bronze medal game defeats we suffered in 1996 and 2000; and they did so in spectacular fashion with an emphatic 90-64 win.
They now advance to the medal rounds for the first time since 2000.
Fittingly, a third Dellavedova long-range bomb as time expired at the end of the first quarter extended the lead to 9 points and the Boomers never looked back.
Repeated attempts by Lithuania to get back into the game in the third quarter were met by fierce resistance defensively, plus an array of Aron Baynes dunks, Patty Mills jumpers and various Boomers getting to the free throw line at the other end.
It was such a clinical display by the Boomers that I wouldn't be surprised if Basketball Australia issued the Lithuanians an invoice afterwards for everything they were taught about how to perform under pressure.
"It was important," Andrew Bogut told FIBA.com of the Boomers' fast start. "We know they came off the late game a couple of nights ago.
"We came out with the right energy and mindset. I just think over the course of the game, we just wore those guys out. Their ball-handlers, they were on their knees towards the end of the game," Bogut continued.
The Boomers then got to get in some postgame recovery and watch the rest of the night's quarter-final action, waiting to see which former Yugoslav nation they'd face in the semi-final.
Serbia held on against Croatia, following a huge third quarter, to set up a rematch from the second pool game when the Boomers prevailed with a late charge to win 95-80.
Make no mistake about it, the semi to be played at 8 a.m. AEST Saturday is the single biggest game a Boomers team has ever played.
It's possibly the most winnable semi-final we've had and could guarantee the first medal by an Australian men's basketball team at any major FIBA tournament.
"It's special to be a part of a unique group that is hungry and eager to achieve something no other Australian team has done before," Mills told Fox Sports.
"It [winning a medal] means more than what you can imagine."
With the self-belief that comes from having beaten Serbia once already in Rio, the Boomers will go into the game as favourites. Win and they'll make history. A loss, however, would be devastating, as a matchup with either the U.S. or Spain would mean an uphill battle to get to that podium finish everyone has been dreaming of.
So what, if anything, has changed since the pool game?
From a Boomers perspective, not a great deal. Mills and Dellavedova continue to flourish on both ends of the court. Delly did a masterful job against Mantas Kalnietis with some amazing support from Damian Martin (who easily had his best game of the tournament) and Kevin Lisch.
Mills, however, has also drawn praise for his two-way play.
"The thing I appreciate the most with him – everyone sees his offence but he's really got into his defence at this tournament," Andrej Lemanis told AAP after the quarter-final win.
"He's prepared to sacrifice for the good of the team."
Bogut remains Mr. Do-It-All with his scoring, passing, rebounding and defence, while also being managed effectively from a physical standpoint, having sat out the China game.
Baynes' offence has gotten better as the tournament has gone on. While he's struggled defensively in a couple of games, he's made up for it on the boards and by getting to the line, where he's connected on 82.4 percent of his free throws.
Joe Ingles—who started a little slowly and has struggled from downtown—has been very effective in other ways, playing a controlled game. He's not forcing anything offensively, taking his chances when he has them, moving the ball beautifully (3.4 assist-to-turnover ratio) and has used his length defensively to disrupt opponents with a steal per game.
The bench, led by Frankston duo Ryan Broekhoff and David Andersen, has improved in terms of keeping the offence ticking over. Broekhoff has been more accurate from long range over the past three games, going 5-for-11, while Andersen continues to hit clutch shots when needed.
Cam Bairstow missed the quarter-final and is no certainty to play against Serbia, but has a chance. His interior scoring, offensive and defensive rebounding and solid post defence would be a welcome addition, but they weren't missed that much against Lithuania, as everyone else chipped in. Andersen stepped up, playing 26 minutes and grabbing six rebounds while also dishing three assists, mostly to Baynes for easy buckets.
The Boomers are ticking along beautifully and whether they win or lose against Serbia is probably more about how they play than anything Serbia will do.
Having said that, Serbia has 40 minutes of game film from our previous clash to review and make adjustments. The Boomers do too, but Lemanis won't want to change the style we played against them too much given its effectiveness. It's the style we've played all tournament, so he'll only be looking to correct small things.
Serbia has gotten stronger as the tournament has progressed, as evidenced by its near-upset of Team USA. A wide-open Bogdan Bogdanovic three-pointer was all that stood between the Serbs and overtime, so they should not be underestimated just because we beat them once already.
They may have finished fourth in Group A, but the way they built that third-quarter lead against Croatia in the quarter-final and the methodical nature with which they chipped away at that U.S. lead in the group game showed just how potent they can be offensively.
Miroslav Raduljica continues to pace them and he was a nightmare matchup for the Boomers in the pool round, with 19 points in the first half and multiple trips to the free throw line. Limiting his touches will be at the forefront of Bogut and Baynes' minds, but that responsibility also falls to whoever is guarding Milos Teodosic, Stefan Markovic and Bogdanovic, who like to drive and dump it off to the big man.
Raduljica continues to struggle on the boards, averaging just 2.8 rebounds per game, but six different players on coach Sasha Djordjevic's roster average at least one offensive rebound per game. Giving up offensive boards has been an Achilles heel of sorts for this Boomers team, which conceded nine against Lithuania and 12 against Serbia in the group phase, so that will need to be contained.
Teodosic has not been at his best in Rio so far, shooting just 30.4 percent from the field, but is hitting two threes per game and has also made 20 of 22 free throws through six games. He's averaging 5.8 assists and had 10 against Croatia yesterday, so Delly, Lisch and Martin will have their hands full…again.
If they can contain him as they did Kalnietis, then someone else will have to beat us.
Bogdanovic may just be that guy. He was very quiet in the group phase against Australia, but has been hot the past two games with 19 points against China and 18 against Croatia in the quarters. Over that span, he's hit 14-of-24 from the field and 8-of-13 from downtown. Expect a combination of Mills, Dellavedova, Broekhoff and Lisch to look to contain him.
Nikola Jokic has also had an interesting tournament. He was underutilised in their first three games before being let loose against the U.S. Jokic led their second-half comeback and finished with 25 points, six rebounds and three assists in 30 minutes in that narrow loss.
He played 24 minutes against Croatia yesterday with 12 points, three rebounds and three assists, but still seems to be mostly in a time-share with Raduljica, with the two rarely sharing the court. That kind of baffles me, given Jokic's passing ability and the range on his shot. They would appear to make a good combination, but Djordjevic likes Jokic as a change-of-pace guy.
That plays into our hands a little, unless Djordjevic shakes up his rotation patterns, as it limits their offensive threats at any one time on the court and makes guys like Nikola Kalinic, Milan Macvan and Markovic have to beat us. I imagine Lemanis and the Boomers players would be happy if that's the case.
Speaking of Lemanis, he continues to do a masterful job with this team in Rio. He totally outcoached Jonas Kazlauskas yesterday and has this team looking sharper than a rookie on draft night. I expect Lemanis to make some subtle adjustments to exploit some of Serbia's weaknesses.
Part of that will be in trying to force turnovers as we did against Lithuania. Pressing, trapping, denying and annoying opponents has served the Boomers well all tournament and there's no reason to think that'll change in the semi-final.
Serbia has played in big games before. It went all the way to the gold medal game at the 2014 World Cup and will be looking to do that again here. If the Serbs get on a roll early, they're good at playing from in front, and the Boomers have not been in a game this big as a group before.
However, plenty of them have been in many big games elsewhere. We have four NBA champions on the roster and a combined 31 NBA Finals games over the past four seasons. There's also Andersen, who has won no less than 11 titles over his illustrious European career.
That big-game experience, confidence and knowledge of how to win is evident in the way this team approaches every game and attacks every opponent.
That will be on display on Saturday morning as the Boomers chase history.
"It's a hard and long road to go but this is one hell of a group that I'm happy and proud to be a part of and everyone else feels the same," said Mills.
It's not meant to be easy, but an entire nation is behind you.
Follow me on Twitter @tomhersz
Follow Downtown @downtownball