It turns out the rumours were all true!
Former NBA All-Star Cliff Robinson will be appearing in the next season of Survivor - Survivor: Cagayan.  The season, which is the 28th season of the show, will premiere in late February and will feature 18 contestants separated into three tribes: brawn, brains, and beauty. Uncle Cliff, who stands at a powerful 6'10", will of course be a member of the brawn tribe.
Robinson played 18 seasons in the NBA for the Portland Trail Blazers, Phoenix Suns, Detroit Pistons, Golden State Warriors and New Jersey Nets — averaging over 14 points a game and making the playoffs every season but one.  He was named the NBA's 6th Man of the Year in 1993 and an All-Star in 1994.  Unfortunately, he is probably best known to many for his appearance in the background of this memorable moment….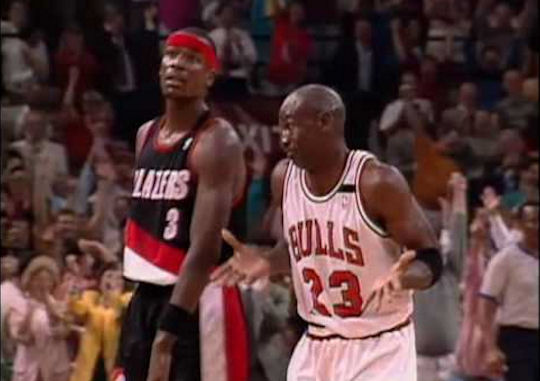 Survivor host and executive producer Jeff Probst is excited about Robinson joining the cast of the new season.
"He's a fan of the show," Probst told reporter Dalton Ross recently. "He made a lot of references during casting to the high he got from having to win in order to eat. He'd say, 'Because if I don't win, I might not be asked back, and if I'm not asked back I don't make my money, and if I don't make my money I don't eat. So I have to win to eat.' And that's the essence of Survivor: You have to win to stick around.'"
On Robinson's Entertainment Weekly 'meet the cast' page he lists Boston Rob as the former Survivor he sees himself most like. "Because he had a good way of getting people to trust him," Cliff says.  He is on the show for "the challenge of the show being so tough and the million dollars" and he'll 'survive' because "I know how to fish, cook, and have good athleticism."  Asked why he thinks he will be the sole survivor, Uncle Cliffy says "I think I would do well in challenges. I also have a good ability to make people feel comfortable with me."
Robinson is going to have his work cut out for him.  His height and his fame will make him an instant target.  However if he can help his 'brawn' tribe win some challenges early and can make some smart and strong alliances, you never know.  One thing's for sure, watching the pro-basketball and Survivor worlds colliding should make for some fun viewing!