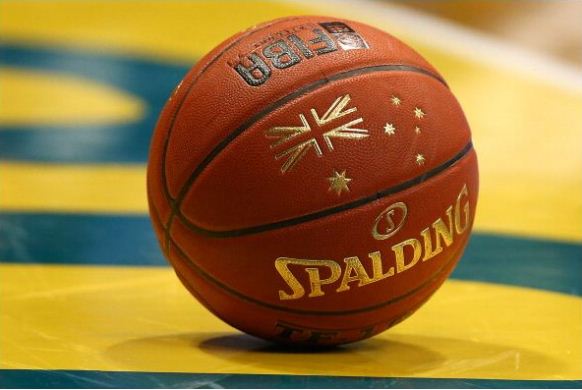 Bad luck has hit the Australian Boomers ahead of this year's World Cup in Spain like a right-handed Mike Tyson uppercut.
First there was Andrew Bogut announcing his unavailability.  Then, Assistant Coach Luc Longley came on the Downtown podcast and said Aleks Marić was injured and not able to play.  And now, Patty Thrills is out.
Head Coach Andrej Lemanis must feel like that punch from Iron Mike has landed squarely on his own freshly-shaven jaw.
Over a week ago Lemanis spoke on FIBA.com about the next phase of selection.
"We're about to name our squad of 16 players to come into camp 23 July in Canberra," Lemanis said.  "We should be making an announcement on the squad next week."
Ah… yeah… it seems like maybe that announcement has been delayed a few days after Chris Dutton's crow flew into the BA offices on Wednesday and dropped the scroll containing the news of Patty's shoulder injury and the resulting seven-month rehab.
I'm guessing Andrej's response at that time would've been something like this…
The Mills loss hurts on the perimeter but no Bogut/Marić leaves an even bigger hole around the basket.
Speaking on the Grizz & Tizz From Way Downtown podcast recently, Boomers Assistant Coach Luc Longley – who sat out the 1996 Olympics due to an ankle injury – said he wasn't surprised that Bogut had made himself unavailable.
"It's disappointing that he's not playing but I suppose I never really expected him to play given his circumstances and I completely understand why he's not," Longley said.  "I support him in not playing; obviously we'd love to have him though."
With Bogut and Marić ruled out, Longley expressed concern over the strength of the Boomers' frontline.
"We've got Baynesy but where we go from there I'm not sure," he said. "I'm in charge of the bigs so I'm trying to see if my shoes fit at the moment, to get back into them and have another go.
"We've got Lukey Nevill out there and we've got a young guy, Angus Brandt, who's got quite a nice body and is coachable but is still young and green… he might even have to have a look for us.
"We are going to struggle for bigs so I'm really disappointed with that.  We're just going to have to adjust the way that we play and go from there."
Lukey Nevill?  Really?  The same Lukey Nevill who spent the past twelve months applying his talents for Taiwan's Mobile Clouded Leopards and the Kalamunda Eastern Suns in WA's State League?
And Angus Brandt?
Luuuuc has done some terrific work with the Aussie bigs over the last few years but he'll need to double-wave his magic wand to fast track Nevill and Brandt's development or our Group D opponents (Lithuania, Slovenia, Mexico, Angola and Korea) just get a whole lot tougher.
With everybody healthy and available, my ideal 2014 World Cup Boomers team would have been:
Smalls and Wings:
Patty Mills (San Antonio Spurs) – Proven international performer who led the 2012 Olympics in scoring
Matthew Dellavedova (Cleveland Cavaliers) – Everyone's favourite Aussie battler
Joe Ingles (Maccabi Tel Aviv) – Euroleague champ and our second-best player in London (behind Mills)
Brad Newley (Gran Canaria) – In his prime at age 29 and averaged double figures in the Spanish Liga Endesa this year. 
Chris Goulding (Melbourne

Tigers

United & Dallas Mavericks NBA Summer League) – Elite scorer who is clearly ready for his Boomers opportunity
Bigs:
Andrew Bogut (Golden State Warriors) – One of the world's premier interior defenders
Aron Baynes (San Antonio Spurs) – Ready to make a big splash on the international stage
Aleks Marić (Lokomotiv Kuban Krasnoder) – Former All-Euroleague center and dependable man mountain
Cameron Bairstow (Chicago Bulls) – Impressed last year in the green & gold and constantly improving.
'Kids':
Dante Exum (Utah Jazz) – Gaining vital experience for Rio 2016
Ben Simmons (Montverde Acadamy) – See Exum, Dante
That group, along with one more out of David Anderson (Strasbourg), Nathan Jawai (Galatasaray), Ryan Broekhoff (Beşiktaş), Damian Martin (Perth Wildcats), Brock Motum (Virtus Bologna and possibly Utah Jazz NBA Summer League), Mark Worthington (Melbourne Tigers United), David Barlow (Zielona Góra and Melbourne Tigers United), AJ Ogilvy (Sydney Kings), Jordan Vandenberg (NC State and New York Knicks NBA Summer League) and Ben Madgen (Sydney Kings) would've had a bloody good shot at grabbing our first ever men's major championship medal.
But alas, it's not to be.  Mills, Bogut and Marić are all out and with them our chances at achieving anything resembling the medal rounds.
Even if our man Joe Ingles doesn't think so…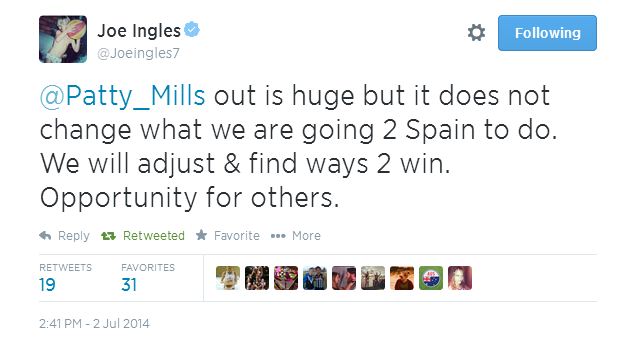 I love Joe's positive attitude and the show-must-go-on approach, and maybe I'm being defeatist by so quickly ruling out our medal hopes, but at the very best we're a super-duper long shot.
Take out Mills, Bogut and Marić and that leaves 8 of the 11 guys I named above, including the two 'kids'. Of those 8, how many do we know, for sure, will be able to play in Spain?
Ingles, Newley and Simmons seem ready to go.
Longley seemed confident about Baynes but he is not yet under contract for the upcoming NBA season.  The Spurs extended him a qualifying offer the other day, making him a restricted free agent, but surely he will want to put pen to paper before lacing up the boots for the Boomers.
Delly's situation is not dissimilar, as he waits on the Cavs to sign him up for next season.
Surely Goulding's availability – suddenly crucial given the loss of Mills – is dependent on what happens in Las Vegas between 11-21 July.  If he's given significant opportunities and really impresses, what chance he suddenly becomes unavailable for the World Cup in order to lock-in that NBA dream that may well become within reach?
And what of our recently drafted NBA rookies, Exum and Bairstow?  Both are keen but will the Jazz and Bulls front offices come to the World Cup party?
As Longley explained recently in an interview with Downtown and Fairfax writer Roy Ward, the decision may be taken out of their hands.
"Dante can be as keen as he likes but if his new club says, 'You need to stay here' then that's what will happen," Longley said. "The situation may arise that the club doesn't see value in him playing; the Bulls stopped me playing once but didn't stop me every time."
"Just talking to those guys, that's the intention; both want to be available." Lemanis reiterated last week.  "We just need a little bit of time to discuss it with their clubs. We expect to have everybody available but you never know."
Ok… so where does that leave us?
Smalls and Wings:
Dellavedova*
Ingles
Newley
Goulding*
Bigs:
'Kids':
* unconfirmed
All of a sudden that Anderson / Jawai / Broekhoff / Martin / Motum / Worthington / Barlow / Ogilvy / Vandenberg / Madgen list now becomes highly relevant.  Longley says add Nevill and Brandt and I'm saying throw Hugh Greenwood and Adam Gibson in there as a chance as well.
"Patty Mills was going to play 30-plus minutes per game and that void has to be filled somehow," Lemanis told Boti Nagy during the week. "There are opportunities that flow from it."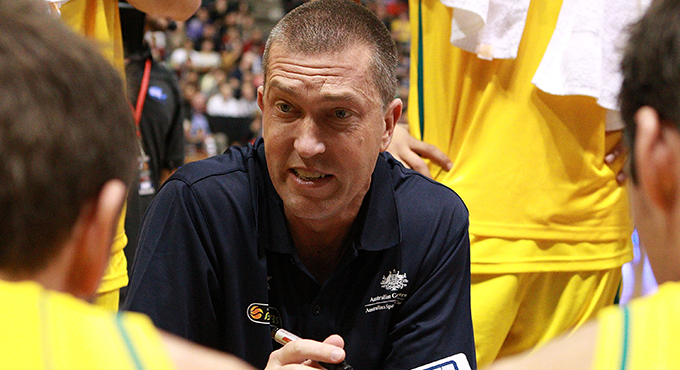 Speaking of opportunities, is uber-exciting seventeen year-old prospect Thon Maker a chance?  Ricky Rubio played important minutes for Spain in the '08 Olympics as a seventeen year old.  Is it crazy to suggest that Maker would gain valuable experience just by getting his international toes wet?  Wouldn't that help us in the future?
Nonetheless, if Delly, Goulding and Exum are all good to go then I'm saying there's one more spot available for a point or combo guard.  That will be picked out of Martin, Greenwood and Gibson and if it's me, I go with Greenwood and plan for the future.
Then it's likely one of Barlow / Broekhoff / Madgen to bolster the wings and, assuming Baynes and Bairstow are both free, it's two of Anderson / Jawai / Motum / Wortho / Nevill / Brandt / Ogilvy / Vandenberg to fill out the bigs. Anderson and Jawai would seem the most likely although health and fitness are concerns.
We're now only 56 days away from the start of the 2014 World Cup in Spain and there are still plenty of unanswered questions surrounding the makeup of our national team.  Probably the biggest question relates to Lemanis' approach to the campaign now that both Bogut and Mills are on the sidelines – try to win now or focus on building towards 2016?
What would you do?
Follow me on Twitter: @liam_santa
Follow Downtown: @Downtownball