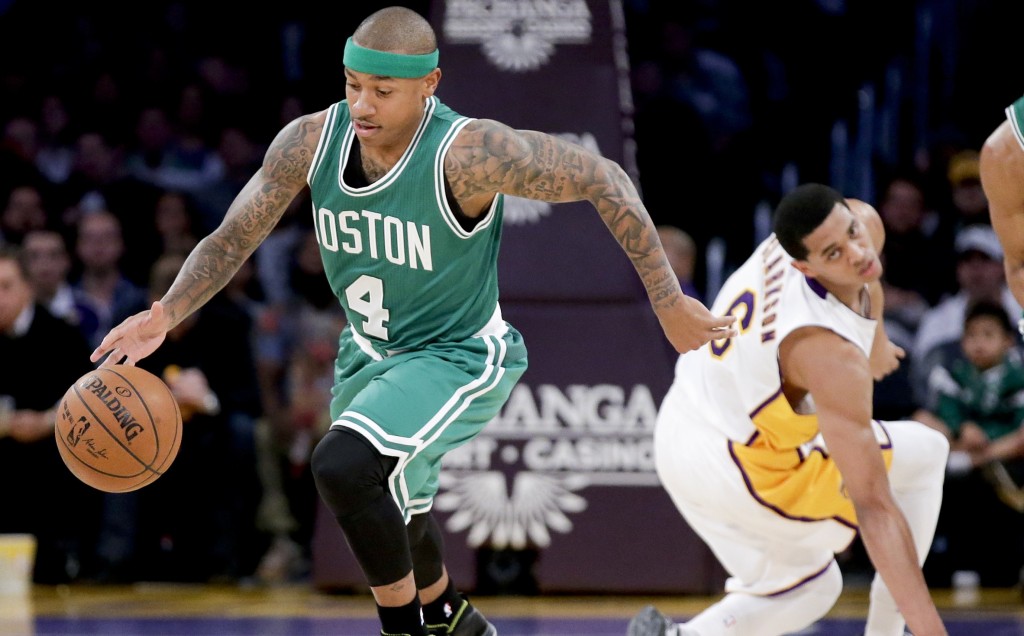 Isaiah Thomas has always possessed an explosive offensive repertoire.
Yet it was only once he joined the Celtics—a team that not only appreciated Thomas' head-on offensive approach, but craved it—that he reached his lofty ceiling.
Prior to his arrival, Boston had all the on-court chemistry and off-court camaraderie a coach could ask for. What they lacked was a cold-blooded offensive killer. That's exactly what Celtics GM Danny Ainge picked up when he traded for Thomas amid little fanfare back in February 2015.
As fate would have it, Thomas—who once openly voiced his desire to wear purple and gold—found that his true destiny lied not with the Lakers, but their oldest rivals.
With a full season in Beantown now under his belt, the man they call the Pizza Guy has taken both his game and his team to new heights.
In order to truly understand Thomas, you must first understand that he's been overcoming doubt and exceeding expectations his entire life. He was never meant to succeed in the NBA.  5-foot-9 is a modest height even in the real world, while being drafted 60th is arguably tougher than going undrafted and having the freedom to try out anywhere.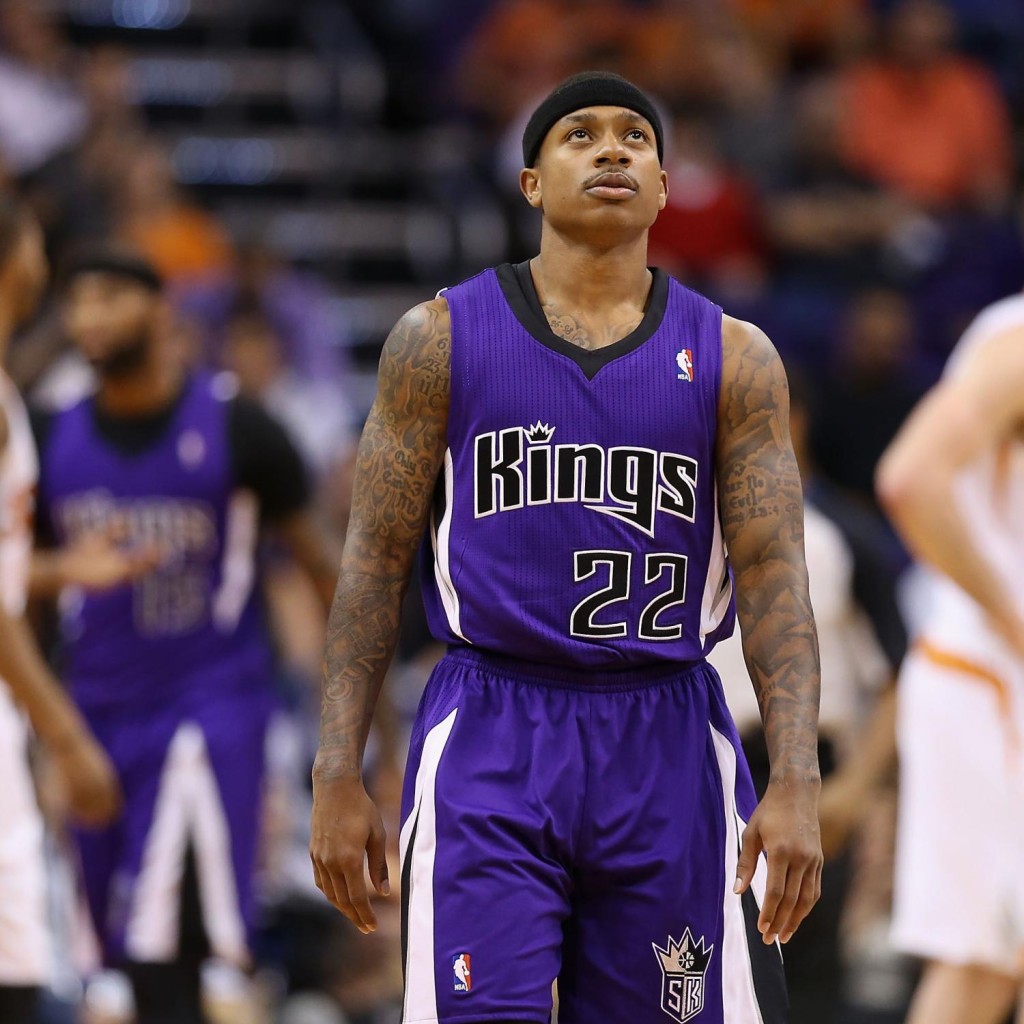 To stack the deck against Thomas further, he was drafted by Sacramento, the undisputed champion of team-wide dysfunction and the very city where rookies famously go to die.
Not only did the former Washington Husky earn himself a spot on the Kings' roster, he burst into the rotation and started half of his rookie season, registering 11.5 points and 4.1 assists in 25.5 minutes.
Yet he was still somewhat shackled in Sacramento, where the eternally pouty DeMarcus Cousins didn't take kindly to his style of play. After joining Phoenix via a sign-and-trade, he was wedged into the Suns' lineup alongside two other point guards, Eric Bledsoe and Goran Dragic.
Thomas is a high-usage guy and needs breathing space to operate. He isn't the kind of player that will fit on every team. His skillset and style of play simply aren't what everyone's looking for.
In Boston, however, Thomas is not only allowed to be himself, but is respected and praised for who he is. The results have been truly spectacular. He's one of just six players in the league to average 22 points and six assists this season, and the only one to do so with less than three turnovers per game.
Thomas has undoubtedly improved his game over the past handful of seasons. However, much of his success in Boston can be put down to the unselfish environment Celtics coach Brad Stevens has created, and his teammates who happily thrive within it.
It makes all the difference in the world that his fellow Celtics are both aware of their offensive limitations and happy to defer to Thomas. They allow their floor general to make the magic happen on offence, knowing they can benefit as Thomas breaks down the defence to create space for both himself and others. This lends fluidity to an offence otherwise prone to stagnancy.
With highly team-orientated, unselfish teammates, the shot-happy Thomas has also improved significantly as a distributor with the Celtics.
He's currently enjoying career-highs of 6.9 assists per 36 minutes, and is assisting on a third of his team's baskets when he's on the floor. The pocket rocket generally assisted on about a quarter of his team's scores prior to arriving in Boston.
Having now spent over a full season with his newest squad, Thomas has learnt his teammates' tendencies and movement patterns well for someone traditionally labelled as a pure scorer.
As a result, a man once believed to be a somewhat awkward fit within a general team structure has slotted into the Celtics lineup just nicely.
Thomas' value to Boston was never clearer than it was last month, when he entered a purple patch, scoring 25.9 points per game with an effective field goal percentage of 52.2.
The Celtics scored 109.8 points per 100 possessions with Thomas on the floor during March, a number which plummeted to 91.8 when he rode the pine. As CelticsBlog's Kevin O'Connor pointed out, the team's offence was as lethal as Oklahoma City's with Thomas, and as woeful as Philadelphia's without him.
The majority of the basketball public may not yet think of Thomas as a genuine star, but he legitimised a fringe playoff team the way any true star would. He played the largest role in transforming the Celtics from a middling 40-42 ball club last season to a 48-34 squad with a real chance of making the conference finals.
Sure, Amir Johnson arrived this season, Jae Crowder made a big leap and Brad Stevens reached what surely must be peak genius. However, Boston's biggest change has been having a full season of Thomas' breakneck brilliance.
What makes Thomas special is the fire he plays with, instilled deep within him from his early school years.
When you've been dramatically undersized your whole life, you either have that Energizer Bunny mentality, coupled with an unbreakable belief system, or you perish.
When someone like that joins a hungry playing group that's willing to work hard, along with an exceptional coach, a special kind of positive energy spreading throughout the team is almost inevitable. One of the ultimate "me against the world" players has finally found the perfect "us against the world" team.
Isaiah Thomas, do you still have a chip on your shoulder?

*looks at shoulder*

"Yeah, it's still there."

— Darren Hartwell (@darren_hartwell) April 7, 2016
What better way to embody that mentality than the way in which the Celtics disposed of the previously undefeated-at-home Warriors in Oakland on April 1.
Thomas was scoreless during the first half, as Golden State's famed defence got inside his shorts, particularly coming off pick-and-rolls. But Thomas wasn't about to go down quietly, especially when he had a chance to beat the best.
After a quick halftime change of footwear—his other shoes "didn't have any buckets in them"—Thomas came out all guns blazing, dropping 18 points in the third quarter.
The speedy point guard repeatedly darted into the lane, drove past a variety of bodies and straight through others, contorted himself to finish at the rim, barked at teammates and hit ballsy perimeter shots.
Throw in some elite Avery Bradley defence on Steph Curry, a huge game from Evan Turner and some big moments from Marcus Smart, and Boston had snapped Golden State's absurd 54-home-game winning streak.
"You've got to have that killer's mentality, no matter who you play," Thomas told the media earlier this month.
"When I'm playing one-on-one with my kids, I let them score a little bit, then I end up beating them at the end. So, that's just the way it is. No matter who you're playing, you've just got to keep your foot on the pedal."
Listen to Thomas talk, and you'll notice that despite catching plenty of folks off guard with stellar play, All-Star nods and All-NBA buzz, none of it comes as a surprise to him.
This was all part of the plan, the logical result of that unlimited self-belief. Self-belief which never wavered, despite the basketball gods regularly putting Thomas behind the eight ball, right from day one.