This time last year, things were looking up in the Big Easy.
Pelicans-fuelled excitement had steadily risen during New Orleans' run home, and reached new levels when they hosted San Antonio in the regular season finale.
A win would earn the Pelicans a spot in the playoffs, a loss would earn them a spot on Inside the NBA's Gone Fishin' segment.
Meanwhile, the Spurs—who traditionally rest everyone from Tim Duncan to the equipment manager as the regular season winds down—had everything to play for with the second seed up for grabs.
The Pels proceeded to clinch a statement victory over the reigning champs in a contest with such a strong postseason vibe that even the natives were decked out in playoff-esque matching T-shirts.
Against the odds, New Orleans had launched themselves into the postseason for the first time since 2010-11, Chris Paul's final season in Louisiana.
Suddenly, a football city which traditionally bled Saints black and gold had painted the town Pelicans red.
Sure, they were then brushed aside by the Golden State juggernaut in the first round, but that was to be expected.
Folks in the Crescent City believed their fortunes would only improve following what seemed to be the team's watershed postseason moment.
Anthony Davis' star had continued its rapid rise, and the Pelicans' relatively young core had finally gotten healthy at the business end of the season, showing what they could do when health granted them the rare opportunity to share the floor.
All signs pointed towards 2015-16 being the year of the Pelican, and yet, it passed them by.
In the words of Melbourne electronic duo Hopium:
"You said this would be your year.
"But you fucked around and now December's here."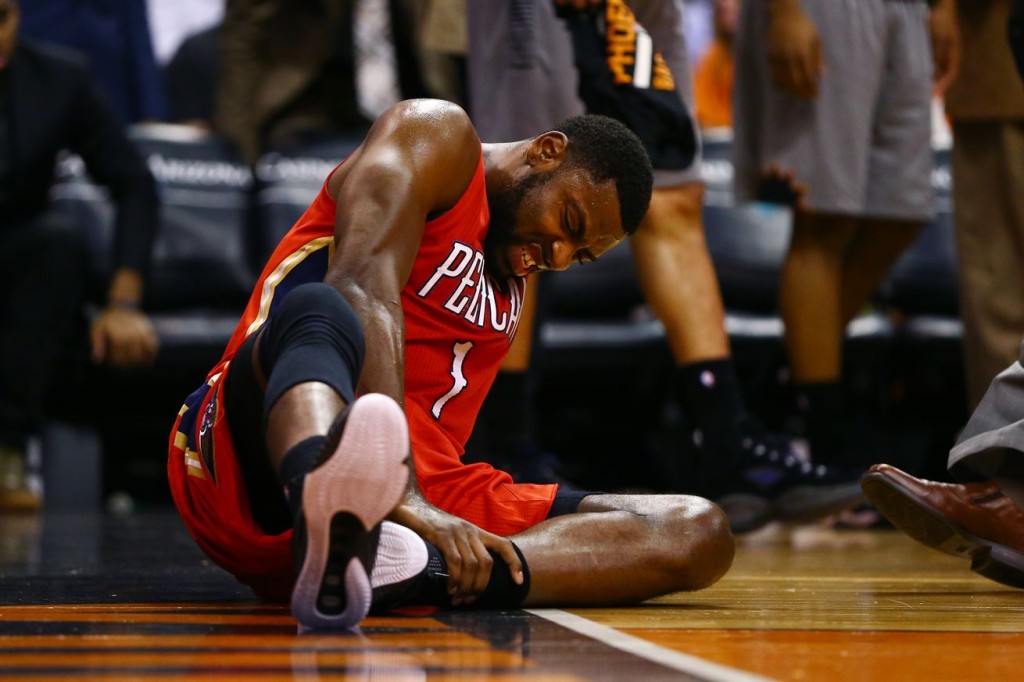 Injuries
While the Pelicans' players, coaching staff and front office are far from blameless for their team's current ordeal, New Orleans' problems started with chronic, team-wide injuries.
The injury bug's arrival and subsequent rampage has become an annual tradition in New Orleans.  A wide array of physical ailments has hindered the Pelicans all year in 2015-16, and opening night set the tone for the rest of the season.
The Pels were without Jrue Holiday, Tyreke Evans, Norris Cole and Quincy Pondexter for game one in Golden State.
They started Nate Robinson at point guard and Kendrick Perkins at centre. The Pelicans had essentially signed the wily Perkins to an off-court mentorship role, while Robinson is now out of the league, being heckled by passing cyclists in Israel.
To go up against the reigning champions on opening night at Oracle with Perk and Nate leading the charge was to bring a plastic butterknife to a gun fight.
As New Orleans got off to a 1-11 start to the season, their injury woes only worsened. For the most part, it was their most dangerous weapons that were forced back into the holster.
Games missed to date:
Ryan Anderson – 9
Jrue Holiday – 10
Anthony Davis – 14
Eric Gordon – 30
Norris Cole – 30
Tyreke Evans – 50
Quincy Pondexter – entire season
Alvin Gentry, after Jrue and Gee left in 2H with injuries: "I am going to send out an all-points bulletin – we need a voodoo doctor here."

— Jim Eichenhofer (@Jim_Eichenhofer) March 29, 2016

Every player listed above is currently injured, and you can now add Alonzo Gee and Bryce Dejean-Jones to the tally, bringing the grand total of wounded Pelicans to nine.
Watching the resulting collection of guys on 10-day contracts regularly playing starter's minutes has left Pelicans fans to wonder if they somehow wronged the basketball gods in a previous life.
Your @Take5_OilChange #Pelicans Starting Five pic.twitter.com/sjoK6VUG6O

— New Orleans Pelicans (@PelicansNBA) April 1, 2016

To make matters worse, the Pelicans' top five players—Holiday, Gordon, Evans, Anderson and Davis—shared the floor for a total of 33 minutes all season.
That group—dubbed the "Finishing Five" by Pelicans fans—has been truly devastating on offence, scoring 121.2 points per 100 possessions over the past three seasons.
That rating is either in the same ballpark as, or better than, Golden State's six most used lineups, excluding their infamous "lineup of death."
Of course, no one is comparing New Orleans to Golden State, and the Finishing Five's defence (which gives up 114.1 points per 100 possessions) was light-years behind that of the Warriors' various lineups.
Yet that Pelicans group was so lethal on offence that it'd handily outscore opponents anyway. It was one of several lineups that New Orleans GM Dell Demps undoubtedly envisioned when he constructed this team.
We've rarely seen the Finishing Five since it was assembled three years ago, and we saw it less than ever this year in what was likely its last season.
Anthony Davis
When scratching around for sources of blame outside of injuries, it's easy to point the finger at Davis, the team's most recognisable face.
In reality, Davis' primary fault is failing to live up to the unreachable expectations set by the modern "build 'em up to tear 'em down" media.
AD is still putting up 24.3 points, 10.3 rebounds and 2 blocks on 49.3 percent shooting, while extending his shot to the three-point line.
While Davis' per-36 stats are very similar to last year's dominant campaign, his PER has dropped from a historically great 30.81 to 25.1, while his field goal shooting dipped from 53.5 percent to 49.3.
This is partly due to a change in his opponents' defensive approach, as well as a decrease in the quality of available teammates.
This season, Davis has been consistently harassed by double teams, a less common occurrence last year. As the ever-changing lineups around Davis became increasingly depleted, they in turn became increasingly poor at reacting to their opponents' swamping of AD.
They'd often stand in the same spot on the floor rather than read and react to make a play. With little-to-no feasible options around him, Davis was often left to force the issue against the double team, resulting in highly contested shots and turnovers.
This is just a snapshot of the struggles of a superstar without healthy talent around him.
Davis has often lacked the "balls-to-wall" approach and general engagement that you'd like to see from your franchise guy. However, the Brow emerged as a vocal and emotional leader in big games last season as the Pels charged towards the playoffs.
Pelicans officials will be hoping that AD becomes re-engaged fulltime if and when the injury bug is no longer forcing him to play alongside fringe NBA talent.
The Pelicans have now decided to shut down Davis, with the young star to have surgery on both his injured left knee and partially torn labrum.
AD revealed that he'd been playing with a torn labrum for the past three seasons, which only makes his rapid rise to superstardom all the more impressive.
A double dose of surgery is never what anyone wants to hear. Yet heading to the operating table three weeks before the end of the regular season may be a blessing in disguise for both Davis and New Orleans, especially because AD has ruled himself out of Olympic action as a result.
He now gets the chance to properly recover, and the Pelicans brass can rest easy during the summer knowing that Davis won't face the risk of further injury with Team USA.
In a strange way, Davis' immediate scratching may serve as a boost for the Pelicans' increasingly desperate quest for long-term health.
Alvin Gentry
It's no secret that Alvin Gentry's players simply don't fit into his preferred systems or general style of play.
Gentry likes quick, reactionary ball movement, but most of his best players are ball stoppers to varying degrees. None more so than Tyreke Evans, who's been known to pound the ball into a fine orange pulp before even considering his next move.
The Pels' new head coach dreams of fast-twitch offences which flow with the fluidity of a boyband member's hairdo, yet has been forced to watch his squad—riddled with players with low basketball IQs—exhibit the complete opposite.
Gentry wants to get up and down the floor, but Demps re-signed Alex Ajinca and Omer Asik, lumbering bigs from a bygone era. Demps threw $58 million over five years at Asik alone.
Gentry clearly doesn't have the tools he'd like, outside of Davis. But he'll have to adapt faster to the hand he's dealt next season—injuries aside—rather than try to force triangles through circular holes in the opening months of the campaign.
He struggled to find the right lineups at times, and was reluctant to play the Finishing Five on the rare occasions that team health granted him the opportunity. This was despite its ability to make all of Gentry's offensive dreams come true.
When you're one of the six worst teams in the league and your defence is already awful, it might be worth playing your one lineup that is proven to be truly elite, even if it's only at one end of the floor.
Additionally, the Pelicans' blatant lack of effort throughout the season is as much a reflection of the players as it is of the coaching staff.
Guys like Gordon and Evans have rarely been accused of caring as much as Kobe Bryant or Chris Paul, but that lackadaisical approach has spread throughout the team.
While it's impossible to rewire guys who aren't instinctively programmed to live in the gym, motivating the playing group falls on the shoulders of Gentry and his coaching staff.
Despite a near-disastrous season, Gentry deserves the chance to see what he can do with a moderately healthy roster.
According to NOLA.com, he's preaching calm and expects to be around next season, saying the Pelicans will be much better next year because they'll be healthier.
Gentry's statement will be of little comfort to long-time Pelicans fans—this team's last healthy season was 2007-08.
Defence
While poor health and a lack of movement, creativity and general smarts on offence have severely hindered the Pelicans, their most alarming weakness has been on the defensive end.
The Pelicans are the not-so-proud owners of the fifth-worst defensive rating in the league, giving up 106.9 points per 100 possessions, three more than last season.
Their defensive rotations have been consistently poor and occasionally non-existent, something which stems from a combination of low basketball IQ and blatant defensive ineptitude.
From the beginning of the season, New Orleans defenders have often resembled traffic cones, as opponents glide down empty lanes with ease and regularity.
While both members of New Orleans' starting backcourt, Holiday and Gordon, traditionally carry solid defensive reputations, it simply hasn't led to sound wing defence.
There might be no better example of the Pels' Swiss cheese perimeter defence than their overtime 121-114 loss in Memphis on March 11.
Matt Barnes messed around and got a triple double—26 points, 11 rebounds and 10 assists. Lance Stephenson managed 33 points, 7 rebounds and 4 assists. And JaMychal Green had 21 points and 10 rebounds.
All three did whatever they pleased against a thoroughly disjointed Pels defence.
The Grizzlies scored 22 points in overtime, which extrapolates to a tick under 53 points for a full quarter.
Gordon didn't play that night, but only the greatest of optimists might suggest it would've made any meaningful difference.
New Orleans' perimeter defence showed that night, more than any other, that its greatest ability is to make stars of mediocre opponents.
A crucial summer awaits
Anderson and Gordon will be free agents this summer, while Evans and Holiday have one more year remaining on their deals.
Anderson is an effective stretch four in a league which has rapidly gravitated towards players of his ilk. But he's a noted defensive liability and has never been the same since suffering a frightening neck injury two years ago in Boston.
Anderson will likely command a monstrous salary this summer as cashed-up stretch-four enthusiasts gather on his doorstep. The safe bet is that he leaves the struggling Pelicans, who whiffed on their final opportunity to get something for him at the trade deadline.
New Orleans will finally have the weight of Gordon's bloated contract off its shoulders. He's shown occasional flashes, and owned the league's second-highest three-point shooting percentage last season—ahead of Steph Curry and behind only Kyle Korver. But he's been available for just 56 percent of regular season games since arriving in the Crescent City, and never reached the levels of genuine stardom that his early years in Los Angeles promised.
Evans creates welcome havoc with his destructive drives to the basket, but demands possession of the ball with greater frequency and aggression than a golden retriever, and kills any pre-existing ball movement once he gets it.
Holiday is a solid point guard, doesn't turn the ball over and is a fantastic on-ball defender. But he has a concerning injury history thanks to ongoing leg problems.
Sure, New Orleans' best five players have formed a deadly offensive unit when sharing the floor, but moving forward with them in the hope that they remain vaguely healthy next season would be to fulfil Einstein's definition of insanity: doing the same thing over and over again, but expecting different results.
With few difference-making free agents likely set on joining their 28-47 squad, the Pelicans may end up talking themselves into the idea that re-signing their own guys is the best way to keep talent on the roster.
Whichever way the Pelicans decide to go, can we trust the same front office that inked both Gordon and Asik to $58-million deals?
With the re-signing of their primary weapons likely to result in perpetual mediocrity, and the luring of major free agents a mere fantasy, the Pelicans' best chance of adding a major piece and returning to relevance is through the draft.
With a full rebuild out of the question under 88-year-old owner Tom Benson, don't be surprised if the Pelicans decide to trade their pick—should it fall outside the top two—for someone who can help immediately.
An offseason of monumental importance lurks on the horizon in New Orleans. The Pelicans will need a sizeable dose of health, lottery ball luck and front office savviness if they're going to truly emerge from the ashes and make meaningful noise any time soon.