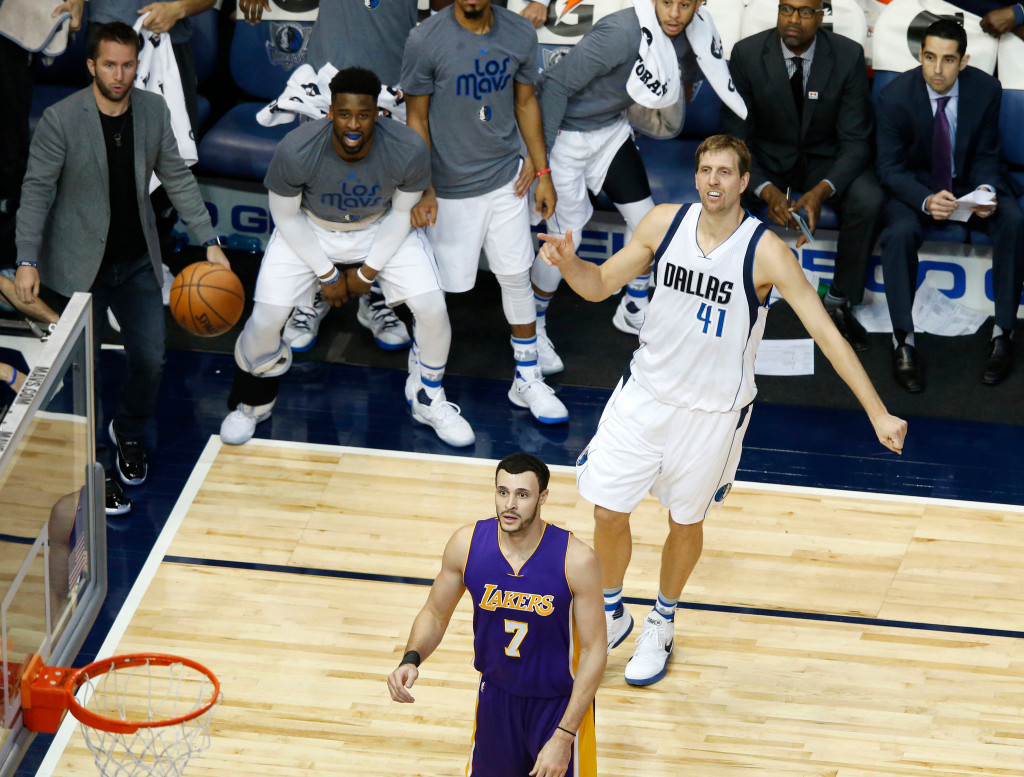 When you think of international basketball players in the NBA over the past 15 years, the first name that pops into most heads is Dirk Werner Nowitzki.
Now in his 19th NBA season, the man who redefined the stretch four position, the former NBA Finals MVP, NBA champion, NBA MVP and 13-time All-Star set a new record this past week.
Nowitzki knocked down a trademark face-up, fade-away jumper to hit the 30,000-point mark for his illustrious career.
THE SHOT HEARD AROUND THE AAC! CONGRATS ON 30K DIRK!! 🔥🐐 pic.twitter.com/r8QoozVmxZ

— Dallas Mavericks (@dallasmavs) March 8, 2017
He's only the sixth player in NBA history to do so and the first non-American-born in that club, and in the process he notched another milestone on his résumé to ensure he becomes a first-ballot Hall of Famer someday in the not-too-distant future.
Dirk plans to play on for at least one more year, which would be his 20th. As he told Marc Stein recently, "Twenty is a great number." Why not?
For fantasy purposes, in his prime Dirk was an automatic first-round selection for many years, and now that we're into the fantasy playoffs, younger Dirk is the kind of guy you wish you could own at the moment.
But alas, his best days are behind him. While he still has value, if you need an immediate boost, you'll have to look elsewhere.
That's where Downtown can help as we listen to the Music of the Traffic, so you can create your own moment in history these fantasy playoffs.
Week 20 (March 13 – March 19)
4 games: BKN, CHI, CLE, DAL, DET, LAC, LAL, MEM, MIL, MIN, NOR, POR, SAC, SAS, TOR, UTA, WAS
3 games: ATL, BOS, CHA, DEN, GSW, HOU, IND, MIA, OKC, ORL, PHI, PHO
2 games: NYK
The Blazers/Timberwolves game still needs to be made up, but likely won't come this week. Instead we have 17 teams playing four times, 12 teams going at it three times and the Knicks bringing up the rear with just two fixtures, meaning Willy Hernangomez's surge to fantasy relevance can be put on hold for a week.
The following players may be available in standard 10- or 12-team leagues.
Tim Hardaway Jr. (SG/SF, ATL): No one in the ATL has benefited more from Kyle Korver's move than Hardaway Jr., who is getting minutes consistently in the mid-30s whether he starts or comes off the bench for Mike Budenholzer. He's scored in double digits the past 20 straight games, set a new career-high (36 points) last weekend, and has averaged 19.8 points, four rebounds, 3.3 assists, 1.8 steals and 2.3 triples with a .526 field goal clip over his past four. He's available in 57 percent of ESPN and 45 percent of Yahoo leagues and is safe to deploy in all formats.
Tim Hardaway Jr 😱 pic.twitter.com/jRQ4vnLboc

— Michigan in the NBA (@NBAMichigan) March 9, 2017
Sean Kilpatrick (PG/SG, BKN): After a nice run earlier in the season, Kilpatrick fell out of favour with Kenny Atkinson. However, he has more than heated up again recently. Kilpatrick had a three-game stint this past week where he averaged 23.3 points, 3.7 rebounds, three assists, 3.3 triples and an impressive .545 field goal clip. He also made 24 of 26 free throws across those three games. He cooled off a little yesterday, going just 1-of-8 from deep, but is still getting minutes in the mid-20s and deserves to be owned in 12- and 14-team leagues while he's this hot.
Marvin Williams (SF/PF, CHA): When it's the business end of the season, the veterans usually know what to do and that is certainly the case with Marvellous Marvin Williams. Coming off a much-improved season last year, it was always going to be tough for the 30-year-old to replicate those numbers, and while it's taken a while, he's almost there. Williams has turned it on even more of late and is averaging 11.5 points, 11.8 rebounds, 3.3 assists, 1.5 blocks and 0.8 triples while shooting 53.6 percent from the field and 86.7 percent from the free throw line over his past four games. That's top-25 value and a handy addition in any league, despite the three-game week ahead. He's looking frisky and is available in 27 percent of Yahoo but over 50 percent of ESPN leagues.
Marvin Williams yammed all over Biyombo pic.twitter.com/eT2PvnlpnS

— Jerry Stephens III (@JR_Steph23) March 11, 2017
Dion Waiters (SG/SF, MIA): Waiters was on fire before succumbing to an ankle injury that cost him three games last month, but despite a little inconsistency, he's pretty much picked up where he left off. If you listen to Zach Lowe, then you know all about "Waiters Island." You should be booking a ticket to visit there for the fantasy playoffs as Dion has provided top-40 value recently with 20.3 points, two rebounds, four assists and four triples over his past three and is available in 37 percent of leagues. Let him serve you the rest of the way.
Jusuf Nurkic (PF/C, POR): I'll keep this brief. If you're in one of the 21 percent of Yahoo leagues or 31 percent of ESPN leagues where Nurkic is available, then grab him, win your league and find a tougher league for next season. His explosion for 28 points, 20 rebounds, eight assists, six steals and two blocks against the Sixers this week tells you all you need to know about his potential value down the stretch. Don't believe me? Watch this:
The rise of Jusuf Nurkic in Portland. pic.twitter.com/TkCrHf4ZQR

— HoopsHype (@hoopshype) March 11, 2017
Cory Joseph (PG, TOR): See Music of the Traffic Week 19 and then take note that he's delivering top-45 value in Kyle Lowry's absence, yet he's still available in 67 percent of Yahoo and a whopping 77 percent of ESPN leagues. If you don't know, then you don't know.
Bojan Bogdanovic (SG/SF, WAS): I have to admit, I was wrong about what his role would be in Washington when he was traded at the deadline. After having a healthy 22.4 percent usage in Brooklyn this season, I was worried he'd fall victim to John Wall and Bradley Beal's ball dominance in D.C. Alas, Bojangles has carved out a very nice role with the second unit playing backup shooting guard and small forward, and he has a 22.0 usage percentage since the trade. He's averaging 20.8 points, 3.8 rebounds, 2.8 made threes and great percentages over his past four games, good for top-30 value. So if he was dropped in your league (as I did in one of mine sadly), and you need points and threes, then grab him for a four-game week.
Ones to Watch:
Jordan Crawford (PG/SG, NOR): Crawford has flashed his fantasy potential before, so his fast start with the Pelicans is not entirely unexpected, however given he's just on a 10-day contract for now, it's prudent to take a wait-and-see approach before wasting a roster spot on him. If he continues this production and gets signed again, then he's a good gamble for your playoff run in 12- to 14-team leagues.
Rodney Hood (SG/SF, UTA): It's been an injury-plagued season for the talented third-year wing out of Duke. He's missed 20 games and has been in and out of the lineup for Quin Snyder's Jazz, which has been frustrating and made him difficult to own. Hood recently returned from his latest absence and while it took him a few games to get his sea legs back, he's turned it on at times over the past week to the tune of 18.7 points, 3.7 rebounds, 2.3 triples and 1.7 steals. That's top-50 value over that span and he needs to be watched in all 12-team leagues, as once he finds consistency, he should be owned the rest of the way.
Even though we're not saying farewell to Dirk, he's had such an amazing career that it's an opportune time to celebrate it… and hope that your team will come up as clutch as he did back in 2011.
Good luck for your fantasy playoffs.

Follow me on Twitter @tomhersz for updates
Follow Downtown @downtownball