Some folks are born silver spoon in hand
Lord, don't they help themselves, oh
But when the taxman comes to the door
Lord, the house looks like a rummage sale, yes
This picture of that fateful 2013 trade sure makes the Brooklyn Nets look like the aftermath of a rummage sale, while Danny Ainge is strutting around like one very fortunate son.
The Celtics came away with the number one pick in this year's draft, by virtue of the pick swap they negotiated with Billy King. They'll have the right to add a potential franchise-altering player to a core that already finished atop the East and is currently battling the defending champs in the Eastern Conference finals.
However, as fortunate as Ainge may have felt after the draft lottery this past Wednesday morning, he wasn't the most fortunate. No, that honour probably goes to Magic Johnson, whose Lakers not only managed to stay in the top three and keep their 2017 first-round pick, but moved up to the number two spot, where they'll pick for the third straight year.
The Sixers will once again make a top-three pick, utilising their own pick swap with the Kings, while Vlade can feel some relief at still picking fifth and also having the Pelicans' pick at number 10 to help accelerate their rebuilding process.
This draft has star appeal all over it, but that doesn't make the decisions any easier for those in charge on draft night.
Who is likely to go where? Is this draft really that deep? And will your team be able to address its needs?
Time to start answering those questions with Downtown's first mock draft for 2017.
Pick 1 – Boston Celtics (Needs: PF, C, backcourt size, depth)
Selection: Markelle Fultz, PG, Washington
It's the number one pick. You take the best player available and figure it out from there. And with no headline big men in this year's draft class, the Celtics will grab Fultz and run for the hills. He's actually a really nice fit for Boston as, like Isaiah Thomas, he can play on or off the ball, plus he has more size than IT2, meaning he could guard the opposing shooting guard should they share the court together in future.
Fultz has copped some criticism (just as Ben Simmons did last year) for not making the tournament and possibly not giving 100 percent all the time, but the talent is undeniable. His 23.2 points, 5.7 rebounds and 5.9 assists as a freshman are nothing to sneeze at and his game is as NBA ready as anyone in this draft class, while still having a ton of upside. Guess that's why he sits atop most draft boards.
Unless Lonzo Ball or Josh Jackson really impress Danny Ainge during pre-draft workouts (assuming Ball even schedules one), then Ainge has a pretty easy call to make here.
Pick 2 – Los Angeles Lakers (Needs: SG, C)
Selection: Lonzo Ball, PG, UCLA
Big Ballers beware. Lonzo is coming to Staples. The local product, who has clearly always wanted to play for the purple and gold, will likely bring his game (and his dad) to the Lakers.
"[There's] only one person ready for this," said LaVar of a draft prospect heading to L.A. after the Lakers drew the second pick. "It's that Ball boy, that Ball boy, number two, the deuce is wild!"
Whether he's ready for the L.A. spotlight or not, his game is ready for the next level. The Jason Kidd comparison is thrown around a lot and he has that kind of vision and size at the point guard spot. He'd be an upgrade over D'Angelo Russell, and if Paul George is really coming to town in 2018, then having a pass-first point next to him can only help.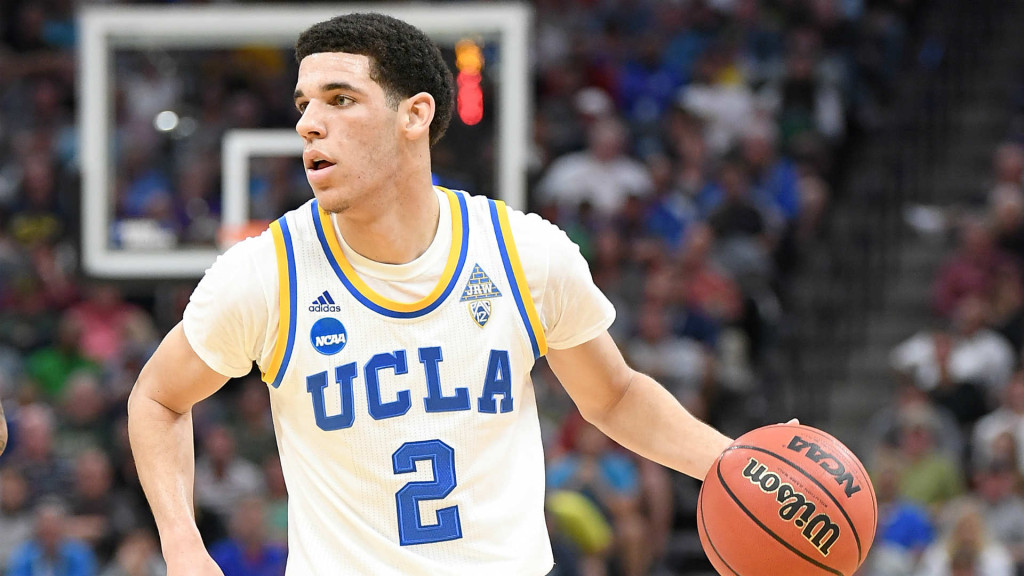 Pick 3 – Philadelphia 76ers (Needs: SG, SF, shooting)
Selection: Josh Jackson, SF, Kansas
It's no secret that the Sixers are in desperate need of some legit outside shooting. Unfortunately, unless they want to reach on Malik Monk here (unlikely), they're not going to find it in this range.
What they will find is a two-way gem in Jackson, which may be just as important. Jackson would be best suited to a role where he's not counted on as the first option offensively, to allow that side of his game to develop. In the interim, he can still score, he did hit at a solid clip from deep down the stretch of his freshman year and he can defend multiple positions, which could be a bonus if Simmons is truly going to run the point.
De'Aaron Fox is another option here, though that conflicts with Simmons playing the one and Fox is also a poor perimeter shooter, so it seems unlikely. Trading down to get Monk could be in play, but I expect the Sixers to make the smart pick and surround Simmons and Embiid with as much talent as possible.
Pick 4 – Phoenix Suns (Needs: PG, C)
Selection: De'Aaron Fox, PG, Kentucky
As lucky as the Lakers got on lottery night, the Suns were unlucky. It's no secret they tanked hard to end the season, even shutting down Eric Bledsoe for no apparent reason. So to come away with the fourth pick after having the second best odds has to sting.
Having said that, Ryan McDonough can still add a very nice piece to continue their rebuild in earnest, after their gaffe with playoff contention in 2015. With Devin Booker a future All-Star, T.J. Warren turning into a nice complementary piece and the young duo of Dragan Bender and Marquese Chriss on the rise, the Suns' future is bright (no pun intended), and Fox could continue that trend.
He's a pass-first point guard who is a handful defensively and his lack of shooting wouldn't matter much on a team with Booker, Warren and Bender. They don't need to go big here, so it's really out of Fox and Jayson Tatum, but with Warren manning the three spot, adding Fox could allow them to try to move Bledsoe before he needs to be extended.
Pick 5 – Sacramento Kings (Needs: PG, SF)
Selection: Jayson Tatum, SF, Duke
Even though they had to swap their third pick with the Sixers, the Kings are in a strong draft position this year with the fifth and 10th picks. At pick five, they can address one of their two major needs no matter who is left on the board.
If Jackson and Fox are gone, they can grab Tatum to be their Rudy Gay replacement. He is a long three-man with strong offensive fundamentals, a nose for rebounding and the ability to become a legitimate two-way threat at the next level.
Despite Duke's questionable track record of producing NBA-ready one-and-done players, Coach K still churns out solid pros with the potential to be stars. Tatum is no different and would be a great fit alongside the emerging talent the Kings have in Buddy Hield and Skal Labissiere.
If Tatum is off the board, they grab Fox and address their point guard woes. Things might finally be looking up in Sacto.
Pick 6 – Orlando Magic (Needs: SG, SF)
Selection: Jonathan Isaac, SF/PF, Florida State
The Magic need… well, some magic. They've struggled ever since Dwight Howard bolted for L.A., and despite several lottery picks and trades, they're no closer to playoff contention. Their core of Elfrid Payton, Evan Fournier, Aaron Gordon and Nikola Vucevic is not going to get it done, so they really need to hit on this pick.
They could go the safer route in Malik Monk to add proven shooting and scoring, but if they want to potentially strike gold, then the unique game of Isaac is the right choice here.
Isaac is a 6-foot-10 combo forward with a 7-1 wingspan who played guard in high school before a late growth spurt. That puts him in good stead to make an impact as a wing at the next level as he has solid shooting mechanics, very good ball handling skills for someone his size, and can guard multiple positions.
He needs to fill out, but his rare length could wreak havoc on the wings in future and, paired with Gordon, would give Frank Vogel a lot of frontcourt flexibility to try to steer this thing in the right direction finally.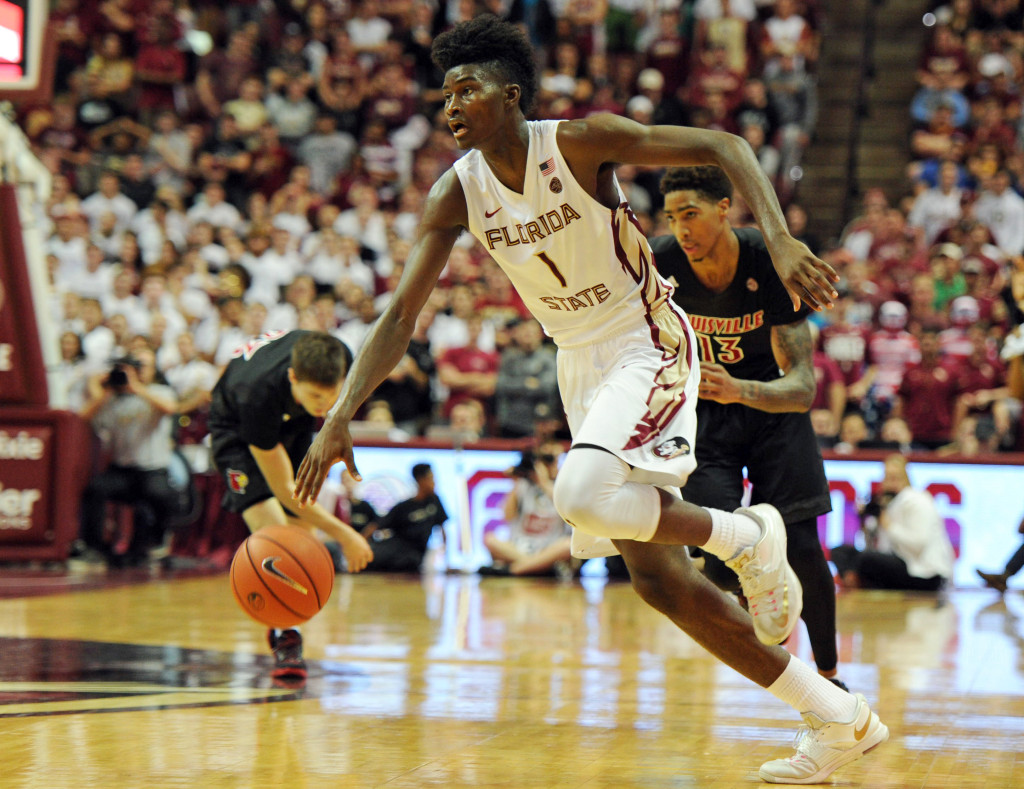 Pick 7 – Minnesota Timberwolves (Needs: SG, PF)
Selection: Malik Monk, SG, Kentucky
This was supposed to be the season the Wolves made the leap into the playoffs, but they fell short again. It's not all bad though as in a draft of this calibre, Tom Thibodeau has a chance to add another young piece to get them there.
With Zach LaVine on the shelf recovering from an ACL tear, the two-spot has become a position of need, although Kris Dunn could see more time there again. Adding a better stretch four is also something the Wolves could benefit from, so this pick comes down to Monk versus Lauri Markkanen for me.
Monk is the more proven of the two, has shown an ability to score in a variety of ways and gives them insurance if LaVine's recovery does not go exactly to plan. He is a phenomenal athlete and that counters his lack of size at 6-3, plus he can heat up in a hurry. In time, he could become a sixth man for the Wolves, or he could become a trade asset, but he's the surer play here for Minnesota.
Pick 8 – New York Knicks (Needs: PG, SG, SF, new offence, new front office, new owner)
Selection: Dennis Smith, PG, North Carolina State
The Knicks need help just about everywhere except power forward, where the Unicorn will hopefully gallop up and down MSG for years to come—unless of course Phil Jackson continues on this head-scratching journey.
Point guard, though, is a position they need to sure-up as a priority, so Porzingis can feel comfortable that he's going to see the ball with regularity. Derrick Rose is not the answer, so unless they're sure they can attract a free agent like Jrue Holiday or Jeff Teague (and really, what free agent is going to voluntarily walk into that nightmare), then they'll need to find one via the draft.
Luckily, this draft class is deep on quality point guards, even at the eighth pick. Smith is a little polarising after an inconsistent freshman year with high highs and low lows, as well as a fired coach, however there's no doubt he has the talent and the body type to succeed in the NBA.
His outstanding production at NC State with 18.1 points, 4.6 rebounds, 6.2 assists and 1.9 steals shows his versatility. He'd make for a beautiful pairing with the Zinger.
Pick 9 – Dallas Mavericks (Needs: PG, PF)
Selection: Lauri Markkanen, PF, Arizona
It's been a long time between lottery drinks for the Mavericks, who haven't had a lottery pick on their opening night roster since Etan Thomas in 2000. However, it may be coming at the best possible time given the lack of talent on Rick Carlisle's roster currently.
The team is built around Harrison Barnes, Nerlens Noel and Wes Matthews, with sprinkles of Seth Curry and the twilight of Dirk's illustrious Hall of Fame career. Needless to say, an injection of youthful talent is in order.
I hate calling someone "the next…," but it does seem timely that Markkanen could be on the board for the Mavs, who'll need to start replacing Nowitzki's production over the next year.
Markkanen may not be the next Dirk, but he is a 7-0 stretch four with great mobility, a very nice stroke from deep and a solid face-up game. Maybe he's the next Ryan Anderson, but either way, he's going to make an impact at the next level and would be a very nice fit with the slashing game of Barnes and the rim protection of Noel.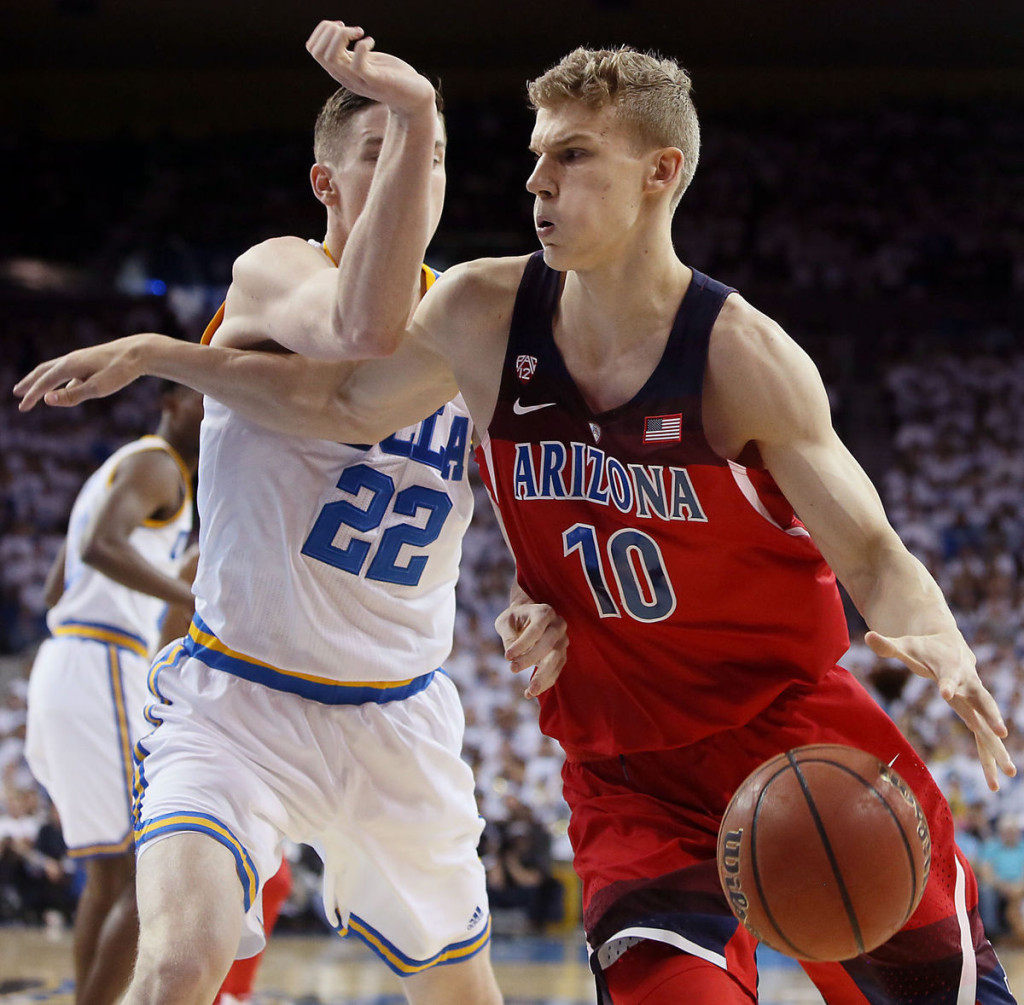 Pick 10 – Sacramento Kings (Needs: PG, SF)
Selection: Frank Ntilikina, PG, France
The Kings' second pick gives them a chance to address their need for a lead guard, but it wouldn't be the Kings (and Vlade) if there wasn't some risk or a European prospect involved.
Enter Ntilikina, who satisfies both criteria, but actually makes a lot of sense too. He's an intriguing prospect at 6-5 with a close-to 7-0 wingspan, making him instantly someone who can help defensively. Think Dante Exum but with more playing experience coming in.
With Hield, Labissiere, Willie Cauley-Stein and potentially Tatum on board, the Kings have a chance to build a really nice—and very long—core to start afresh after the DeMarcus Cousins trade.
Ntilikina was super impressive at the FIBA under-18 European Championship in December, hitting nearly 60 percent from deep, while dishing very effectively out of the pick-and-roll and demonstrating a very high basketball IQ. He may not be at the same level as Fultz and Ball, but he's not that far off and has all the tools to be an effective starter-level point guard for years to come.
Pick 11 – Charlotte Hornets (Needs: SF, PF, C)
Selection: Harry Giles, PF/C, Duke
There's a lot of buzz for Gonzaga's Zach Collins in the nine-12 range, but if the Hornets want to differentiate themselves, it's time to swing for the fences.
Giles was rated a top-three prospect before his knee troubles as a high school senior (torn ACL), which ended up delaying the start of his freshman year for Coach K. He never really got it going, playing limited minutes and learning to get comfortable again, and there are still some question marks around the health and stability of his knee. Those will need to be answered for him to become a lottery pick next month.
If he does get the all-clear, he could go even higher as his length (6-11 with a 7-3 wingspan) and athleticism lend him beautifully to the modern game. Giles would give the Hornets a legitimate rim protector, an athlete capable of running with Kemba Walker and a nice complement to Frank Kaminsky up front.
The Hornets need to find a way to leap up the East standings and it's not going to happen without some good fortune.
Pick 12 – Detroit Pistons (Needs: PG, SG, SF)
Selection: Luke Kennard, SG, Duke
Whether you believe Reggie Jackson's role is in jeopardy or not, the Pistons are not going to find their point guard solution at this stage of the draft. Instead, they'll look to address another need—shooting depth.
Kennard is all over the place on draft boards, but he definitely has NBA range, NBA size and a competitiveness that will serve him well. He's possibly the best shooter in the draft, so even if he fills a reserve role for Stan Van Gundy, he'd help space the floor, which is a necessity with Andre Drummond down low.
The Pistons are still hoping Stanley Johnson and Henry Ellenson can come along, which with Kentavious Caldwell-Pope, Drummond and Tobias Harris would give them a well-rounded young core that Kennard would complement nicely. This may be a slight reach but he'd be a great fit.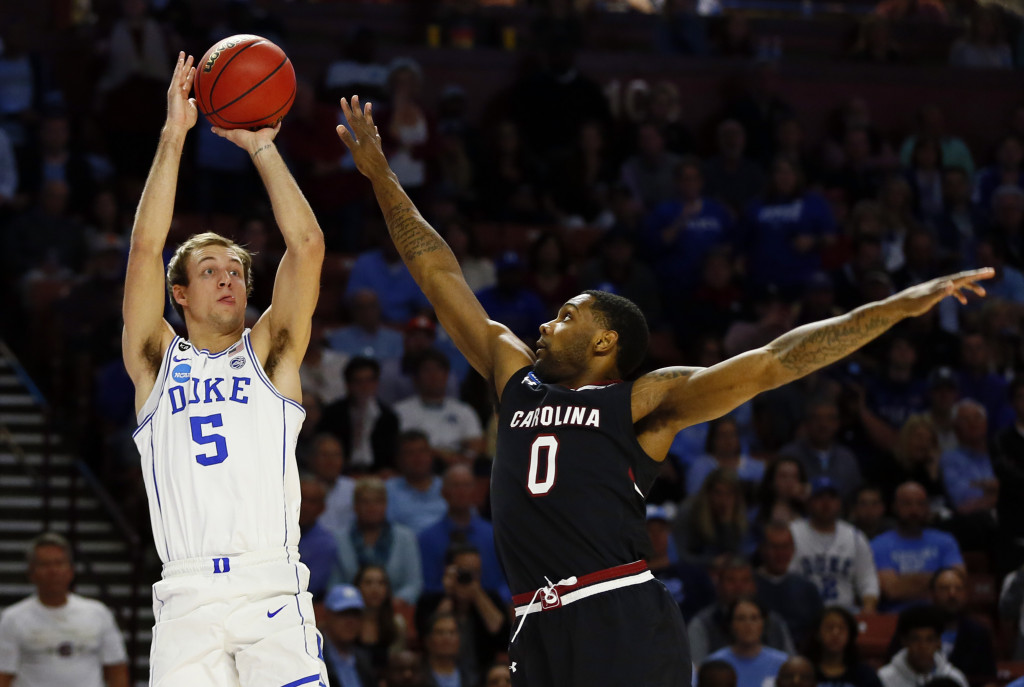 Pick 13 – Denver Nuggets (Needs: PG, SF, PF)
Selection: OG Anunoby, SF/PF, Indiana
The Nuggets were on the verge of a playoff berth and have a nice, deep young core, so they don't have any significant needs, depending on your view of Emmanuel Mudiay, although Jamal Murray could be their future at point guard already. They have plenty of cap space, meaning they can afford to take a long-term view with this pick.
Anunoby would be exactly that as he'll miss most, if not all of the 2017-18 season, recovering from a torn ACL he suffered in January. When he does return, he would give Denver a unique combo forward prospect.
The Nigerian OG stands 6-foot-8 with a 7-2 wingspan and elite athleticism, which allows him to guard four to five positions on the court. His offensive game came along as a sophomore, as he more than doubled his scoring average, improved his free throw percentage (still a work-in-progress) and showed solid range.
In time, he can provide cover for Danilo Gallinari, Juan Hernangomez and Nikola Jokic and could be an X-factor off the bench for Mike Malone's improving Nuggets.
Pick 14 – Miami Heat (Needs: SG, PF)
Selection: Zach Collins, PF/C, Gonzaga
After a phenomenal second half, the Heat were unlucky to miss the playoffs, but they now have a chance to add a solid player who can help them continue their post-big three rebuild.
Collins is going as high as ninth on many draft boards, so he could be a bargain if he falls to Miami here at 14. He is a high-energy, high-impact player with a very nice stroke and three-point range. Effectively, he's exactly what most NBA GMs are looking for in a modern stretch big.
Miami does not have anyone who fits that bill unless Chris Bosh can return, and there's no guarantee that will happen. Collins could stretch the floor alongside Hassan Whiteside or bring a different look as his backup. Either way, Miami gets someone who will play hard each and every night and find a way to contribute as he did for the Zags in their Final Four run this year.
Next best: Justin Jackson (SF, North Carolina), Jarrett Allen (C, Texas), John Collins (PF/C, Wake Forest), Donovan Mitchell (SG, Louisville), T.J. Leaf (PF, UCLA), Terrance Ferguson (SG, Adelaide), Ike Anigbogu (C, UCLA), Kyle Kuzma (PF, Utah), Justin Patton (C, Creighton), Ivan Rabb (PF/C, California), Frank Jackson (G, Duke)
There's a lot of time still before any names in this deep draft class get called on draft night, so there are sure to be changes to come. The recent combine has given front offices extra things to consider, but once team workouts and interviews start, each team's draft boards will become clearer.
Until then, at least we have the order settled and some of the more storied NBA franchises can count themselves as fortunate as they begin writing their new chapters.
Some folks are born made to wave the flag…

Follow me on Twitter @tomhersz
Follow Downtown @downtownball